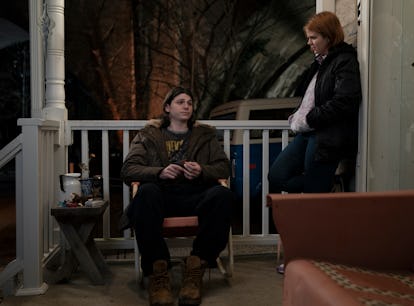 These Mare Of Easttown Theories About The Father Of Erin's Baby Are Wild
The suspect list is narrowing.
HBO
When Mare of Easttown first debuted, fans assumed it was a bit like True Detective without the title's baggage after three seasons. It starred an Oscar-winning actor in Kate Winslet as a small-town detective with a case that wasn't what it seemed on the surface. But Mare has thus far zagged where viewers expected it to zig, especially when it comes to how the case fits together. These Mare of Easttown Reddit theories are proof that the original suspects may not be the answers.
Warning: Spoilers for Mare of Easttown Episode 5 follow. Unlike The Undoing, which took the viewer's wariness of picking the most obvious suspect and used it against them, Mare of Easttown has been all about the most obvious answers, only to remove them just as viewers settle into certainty. Were you pretty sure Zabel was somehow involved? Too bad, he's dead. Did you think Dylan was an innocent pawn? Well, now he's breaking into her house and burning her journals.
But the most significant unraveling of the viewer's assumptions is that it's all connected. Time's not a flat circle here. Katie Bailey's disappearance has nothing to do with Erin, and vice versa. Moreover, if Katie and Missy's abductions have nothing to do with Erin, what's to say that Erin's baby drama and death are related?
If one assumed Erin's baby daddy isn't necessarily the killer, that changes the equation. Let's run down the suspects.
Mare of Easttown continues on Sundays at 10 p.m. ET on HBO.