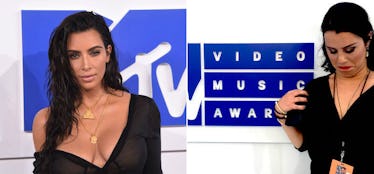 I Got A Glamsquad Makeover For The VMAs Like Kim Kardashian
REX/Shutterstock/Lydia Mansel
This past Sunday, I was personally invited to attend the Video Music Awards and strut my stuff on the red carpet.
MTV basically begged me to come to help the ratings of the show.
OK, I'm exaggerating slightly. I may or may not have been there with the press to interview celebrities and cover the VMAs for my job. Same thing, right? Whatever, shut the fuck up.
In the end, it didn't matter why I was going to the VMAs, it was the fact I was going. I would be standing on the same exact carpet where Beyoncé would put her toes.
HER LITTLE, MAGICAL TOES. Think about how cute they are. Her pinky toe has a net worth higher than my entire life.
ANYWAY, I needed to go to the VMAs looking my very best. I wanted everyone on that carpet to look at me and think,
Holy shit. Is that the new face of Balmain?
I wanted Kanye West to smell my perfume from miles away and eat me up like those little bite-sized peanut butter cups. You know what I'm talking about? They're like five bucks at CVS and tasty AF.
In order to look like a model, I needed a little assistance to basically fix everything about my face.
On a good day, my doppelgänger is Gollum from "Lord Of The Rings." On a bad day, eh, let's not go there. I'm not tryin' to kill you.
The goal was simple. Make me look identical to Kim Kardashian so Kanye West takes me home instead. I want everyone on the carpet to actually get confused about who's who to the point where security has to conduct a DNA test.
That's really all I wanted and Glamsquad made it happen.
My co-worker Lydia suggested we hit up Glamsquad before the red carpet to get our hair and makeup done. Glamsquad is super chill because they send beauty professionals straight to your home.
I could be in bed with no pants on, chowing down on Easy Mac while strangers go HAM on my face. It's a beautiful system and I was ecstatic to try it.
To get started, we had to wash our hair and take off our makeup. Oooh, natural beauty! Look at those imperfections!
Hot right? *throws up in palm*
Then, Lydia and I sat on her couch and pretended to look busy until beauty stylists Ashley, Nick and Marcus rang the bell.
It was that easy! You book an appointment, specify your address and Glamsquad sends you angels. These people mean everything to me. I love and care about you all.
We were able to speak with Kelli Bartlett, Glamsquad's director of makeup artistry, to give us the inside scoop of how it all goes down.
Glamsquad is based in New York, Los Angeles and Miami and offers VIP-level services. The company has worked with everyone from Gwyneth Paltrow to Hailee Steinfeld, so I knew I was in good hands.
I sat down and let Ashley get to work.  I told her I wanted to reach my maximum potential and look prettier than I ever have before.
NO PRESSURE, ASHLEY, IT'S JUST THE WHOLE WORLD WATCHING.
I like to go heavy on the makeup so I asked for a black and gold smokey eye. I saw it on Pinterest once and it looked cool, so I figured I'd test it out.
Glamsquad is fun because they offer you a style menu where you can get inspiration for hair and makeup looks. If you have no idea what makeup is or how it works, then I suggest you check this baby out.
I knew I wanted a smokey eye because it's edgy and I wanted to pretend to be cool. Kim Kardashian likes to cover her lids in dark shit, so I figured that was a good place to start.
When I've done smokey eyes by myself, I look like I got punched in the face. When Ashley from Glamsquad did it, I looked like a model.
She also filled in my eyebrows and made them look BOMB. I over-plucked them in middle school and they still haven't fully grown back, so this was a very emotional experience for me.
DON'T THEY LOOK AMAZING? Right now I look like Kim K's ugly twin, but we're getting somewhere!
After eyebrows, we added foundation and contoured the face. Ashley made my cheekbones pop.
Contouring definitely helped my face look skinnier, too... so like, that's a plus.
She added some mascara, eyeliner and lipstick and made the final touches. Kelli told us metallic eyes and dark lips would be huge at this year's VMAs, so I was right on trend.
LOOK AT MY FACE, YOU GUYS. THE MAKEUP TRANSFORMATION IS COMPLETE.
After that, Marcus used a blowdryer and brush to curl my hair. What a talented fellow.
Here is the finished product. Take a look, boys. I'm single and ready for a pringle (haha date me, plz).
Is that you, Kim Kardashian?!?!
Ugh, being a celebrity is hard work.
I even got a boyfriend! He just doesn't know it yet.
Makeup is magic!
Thanks, Glamsquad, for making all of my dreams come true.
Chance and I will hit you up at our wedding!!! See you then.