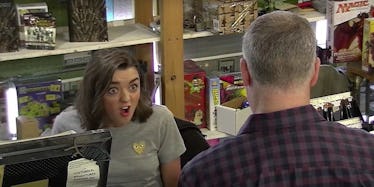 Maisie Williams Pranks 'Game Of Thrones' Fans By Pretending To Work At Store
Here's the deal: Maisie Williams is the best person to ever exist. OK? OK.
In a video for Nylon, Maisie Williams, aka Arya Stark, sat in as the check-out clerk at an RPG store. If you don't know what that is, just think of it as a store for super mega-nerds.
Maisie tells customers they have to act out scenes from "Game of Thrones" if they want to make their nerdy purchases. The reactions of the hardcore fans are entertaining, but it's Maisie's ad-libbing that makes this video hilarious.
I'm just saying, she's only 19, so my bets are on a promising comedy career after Arya gets the Iron Throne. (OK, that will probably never happen, but a girl can dream.)
The sixth season of "Game of Thrones" premieres this weekend, April 24, on HBO.
Citations: 'Where do I know you from? Tinder?': Maisie Williams pranks unsuspecting Game Of Thrones fans at a hobby shop (Daily Mail)