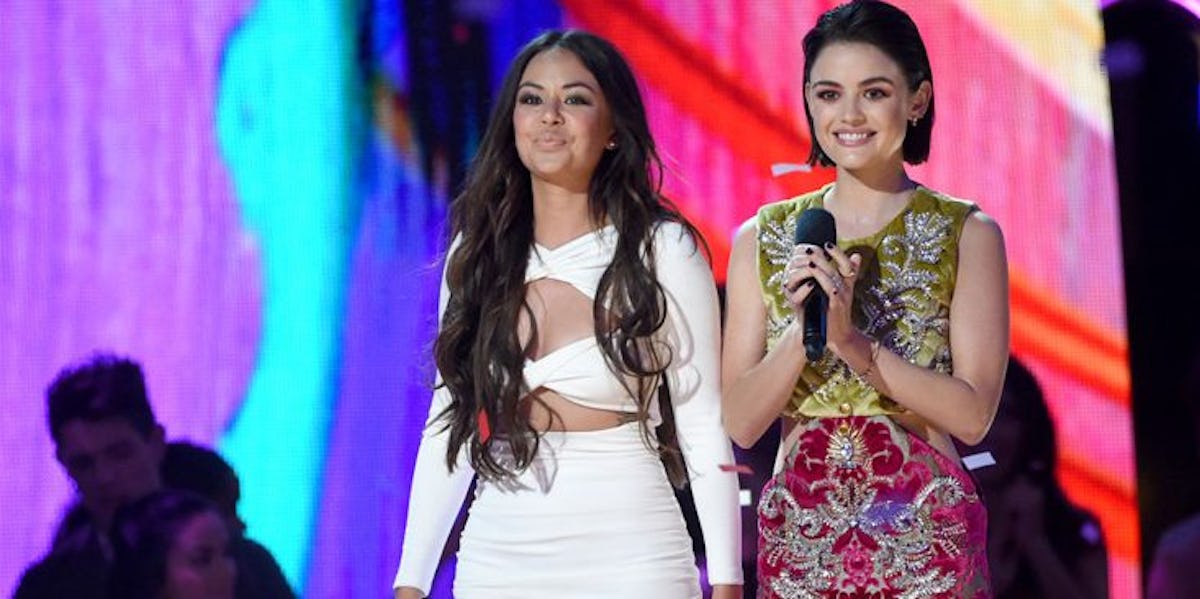 Lucy Hale Just Beat All Her 'Pretty Little Liars' Co-Stars At The Teen Choice Awards
Kevin Winter/Getty Images
If you have been paying attention to Fox's Teen Choice Awards at all this year, then you know everyone was shocked when the nominees for Choice Drama TV Actress were announced. I'm talkin' reel-your-jaw-up-off-the-ground shocked, because, for the first time ever, five out of the six talented actresses nominated in the category were from the same damn show. Yea, that's right, all five Liars from Pretty Little Liars earned Teen Choice Awards nominations this year, and we have all been over here shook AF trying to decide who should win ever since. Finally, after all the anticipation and suspense, we know who took home the coveted surfboard. Lucy Hale won the Teen Choice Award for Choice TV Actress, even with all that PLL competition.
If we're being honest, I'm not *totally* surprised someone from Pretty Little Liars won this year's award for two main reasons: 1) 5/6 nominees were from PLL and, I mean, those are some pretty tough odds to beat, that's just science... and 2) A cast member from PLL has won this award every year for the past five years. So yeah, they pretty much had this one on lock. Lucy Hale won in 2012, 2014, and 2015, meanwhile Troian Bellisario won in 2013 and Ashley Benson won in 2016. I would've been more shook if someone from a different show won in this category.
That being said, the only nominee on the list not from the PLL cast was Bella Thorne for her role as Paige on Famous in Love. Of course, we stan Bella, and she slays in FIL, but it's only fitting the award went to a PLL cast member since this is the last time the show will be nominated.
Janel Parrish has also already won Choice TV Villain, and PLL is still up for Choice Drama TV Show. As bittersweet as it is to officially say goodbye to a series that has been nominated at seven Teen Choice Awards shows, at least we can send them off with a win. Congratulations, Lucy Hale, and the whole cast of Pretty Little Liars.