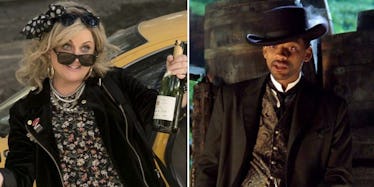 Full List Of August Netflix Releases Is Here, So Get Ready To End Summer Inside
Netflix/YouTube
As we inch closer and closer to the end of July, it's natural to be bummed that summer is almost over. Let's face it: August is the Sunday of summer months, and no one is prepared for September to hit like a bag of bricks.
Though we may soon have to say goodbye to the pool parties, backyard barbecues, and scorching hot beach days, all hope is not lost.
That's right, Netflix is here to save the day (as usual). Netflix announced all of the new titles for August and we're already getting pumped to binge some new original series and revisit old faves.
Here is the complete list of what you can check out on Netflix next month.
August 1
A Cinderella Story Bad Santa Cloud Atlas Crematorium: Season 1 Everyone's Hero Funny Games (US) Innerspace Jackie Brown Lord of War Maz Jobrani: Immigrant Nola Circus Opening Night Practical Magic Sleepy Hollow Small Soldiers Surviving Escobar - Alias JJ: Season 1 The Addams Family The Astronaut's Wife The Bomb The Hollywood Masters: Season 1 The Last Mimzy The Matrix The Matrix Reloaded The Matrix Revolutions The Number 23 The Royal House of Windsor: Season 1 The Truth About Alcohol The Wedding Party Tie The Knot Who Gets the Dog? Wild Wild West
August 2
Jab We Met The Founder
August 3
Sing The Invisible Guardian
August 4
Icarus Voltron: Legendary Defender: Season 3  Wet Hot American Summer: Ten Years Later: Season 1
August 5
Holes
August 8
My Little Pony: Friendship Is Magic: Season 7 Episodes 1–13
August 9
Black Site Delta
August 10
Diary of an Exorcist - Zero
August 11
Atypical: Season 1 Home: Adventures with Tip & Oh: Season 3 Naked True and The Rainbow Kingdom: Season 1 White Gold
August 13
Arthur and the Invisibles Hot Property Mission Control: The Unsung Heroes of Apollo
August 14
The Outcasts Urban Hymn
August 15
Barbeque Brad Paisley's Comedy Rodeo 21 A New Economy All These Sleepless Nights Donald Cried Murderous Affair: Season 1 My Ex-Ex The Sweet Life
August 16
Gold
August 18
Dinotrux: Season 5  Glitter Force Doki Doki: Season 1 I Am Sam Marvel's The Defenders: Season 1 What Happened to Monday
August 19
Hide and Seek
August 20
Camera Store
August 21
The Good Place: Season 1 AWOL Bad Rap Beautiful Creatures Gomorrah: Season 2 Unacknowledged
August 22
Lynne Koplitz: Hormonal Beast Sadie's Last Days on Earth
August 23
Feel Rich
August 25
Disjointed: Part 1 Death Note DreamWorks Dragons: Race to the Edge: Season 5 Once Upon a Time: Season 6
August 29
Bring It On: Worldwide #Cheersmack Ryan Hamilton: Happy Face
August 31
Be Afraid
Suddenly August isn't looking so bad, am I right? Just don't cancel your vacation to stay inside and binge-watch all these new goodies (or do, whichever works for you).