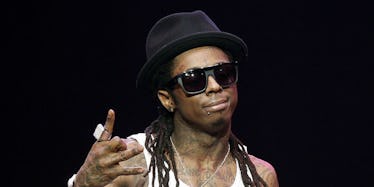 Lil Wayne Did The Most Amazing Thing When He Saw Military At The Airport
Getty Images
Lil Wayne is this week's MVP. There's no question about it.
At Indiana International Airport this past Saturday, Lil Wayne's flight didn't take off on time.
As his flight prepared to depart, a military aircraft apparently landed at IND. According to a Facebook post, Wayne decided to get off the plane, meet the military personnel, shake their hands and thank them for their service.
The full post read,
So Lil Wayne came through IND today. At the same time he was due to depart, there was a military C130 arriving. It parked next to the Gulfstream he was on, and about 30 men in uniform crossed the ramp into the lobby. After they walked in front of the G-550, Lil Wayne apparently told his pilots he wanted off. They shut down their engines, and he and his boys got off their plane, came into the lobby and shook every one of the service men's hands. There was no press and no one to show off for... just a seemingly genuine act of respect. I know a lot of controversy surrounds him but, today, I was impressed.
In the comments, the Facebook user explained she got this photo just as Lil Wayne got ready to walk back out to his plane.
No matter how you feel about the rapper, I think we can all agree his kindness in this moment is pretty damn admirable.
Way to go, Weezy. Way to go.
Citations: Lil Wayne Gets Off Plane For Military (Complex)