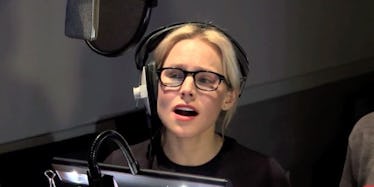 Kristen Bell And Other Stars Release Song To Raise Money For LGBT Community
Playbill
It's been a week and a day since 49 people were shot and killed at Orlando's Pulse nightclub, and the world continues to mourn the innocent lives taken.
Now, Broadway stars are expressing their grief and paying tribute to the largely LGBT and Latino victims doing what Broadway stars do best: singing.
Kristen Bell, Idina Menzel, Sarah Jessica Parker, Whoopi Goldberg and Lin-Manuel Miranda, among others, got together and recorded a cover of the 1965 song "What the World Needs Now Is Love," originally by Burt Bacharach.
The song is available now for purchase for $1.99 at Broadway Records and will be on iTunes soon.
All of the proceeds from sales will be donated to the LGBT Community Center of Central Florida.
There are so many stars on the track it's hard to keep track — Carole King, Gloria Estefan, Wayne Brady, Matthew Broderick, Rosie O'Donnell and Sara Bareilles all contribute, just to name a few.
The recording happened last week in New York City and the track was released online today.
The message is uplifting and hopefully the world will listen — what we need now is love, sweet love.
If you want to donate directly to the center, you can do so on The Center Orlando website.
Citations: Kristen Bell and Idina Menzel Had a Mini Frozen Reunion for the Orlando Shooting Victims (Cosmopolitan)