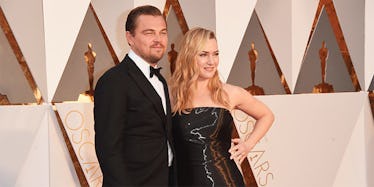 Leonardo DiCaprio And Kate Winslet Reunited At The Oscars And It Was Everything
You guys, it happened.
The most anticipated moment of the night happened before the main event even started: Jack and Rose got back together.
Leonardo DiCaprio and Kate Winslet met on the Oscars red carpet and our hearts are still going on... and on... and on.
We'd like to think Kate was all like, "Good luck, Leo, don't FREEZE up there, LOL." And Leo was like, "Literally, Kate. Spare me."
Here they are, looking stunning and acting casual.
And here they are again, just being silly.
Ah, yes. The "Titanic" puns are always a good ice-breaker on a tense evening.
ONE MORE... just so you can soak it all up, folks.