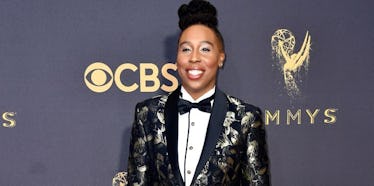 Lena Waithe Just Made History At The Emmys & Got An Emotional Standing Ovation
(Photo by Frazer Harrison/Getty Images)
Tonight's Emmy Awards have been filled with Stephen Colbert poking fun at the Television Academy for praising itself for diversity, when it means a dozen people of color in a room full of thousands upon thousands of white people, instead of say, one. Yes, it's progress, but not nearly at a scale there needs to be. All that being said, the Emmys got one award right this evening as they handed Outstanding Writing for a Comedy Series to Lena Waithe for the Master of None episode she penned, titled "Thanksgiving." She is the first African American woman to win in this category.
The room went wild. Not only did her fellow cast members give her a standing ovation, so did nearly half the room. Sterling K. Brown, who is nominated tonight for Best Actor literally leap to his feet, echoing how Taraji P. Henson applauded all her fellow women of color a couple of years back at her first Emmy Awards visit.
Lena Waithe had no expectation of winning ahead of tonight. Though "Thanksgiving" was a remarkable episode, she was up against some heavily favored shows, like Silicone Valley, Atlanta, and VEEP. Perhaps the fact that the latter two shows had two nominations each worked in her favor, because they canceled each other out. Meanwhile Silicone Valley's fortunes have dropped since terrible cast member T.J. Miller was booted, and did some very embarrassing interviews.
Waithe said she personally was just excited to get to go at all. On her Instagram this evening, she posted a moving photo of herself as a little girl, saying that this has been her dream since childhood.
This little girl always dreamed of going to the Emmys one day. And today her dream comes true. This is how I feel no matter what happens tonight. #LoveYall
Perhaps she thought that this would be it, and just getting to attend would be enough. Instead she got to make history, not just for her win, but also for her speech. As is now the standard meme she shut down the applause and the standing ovations by pulling a Maxine Waters and reclaiming her time.
She then shouted out to all those in the LGBTQIA community. (And she got all the letter in the correct order, thank you very much. Donald Trump it's really not that hard.) For those who have not seen the episode, "Thanksgiving," it stars Lena in the role of "Denise," comes over to hang out with lead Aziz Ansari's character Dev. She then proceeds to thank about what Thanksgiving has meant to her, and in a series of flashback shots and and current day story telling, and how she slowly came out to her family and how that affected the holiday over the years.
The story that Denise tells is actually Lena's personal one. She drew on her real-life experiences as a woman of color coming out as a lesbian to her family, and the emotional turmoil they went through during that time in order to co write it with Ansari.
It's a beautiful thing to see someone baring their soul like that, both for art and for an honest and positive portrayal of what it is to be a queer woman of color, and getting praised for it. That Waithe then took home this award, in such a historic fashion, only makes the ending to the story more inspiring than it already was.
Congratulations to Waithe, to Aziz Ansari, and to Master of None. This historic moment couldn't have gone to a better episode, or to a better show. Master of None Season 2 is streaming now on Netflix.