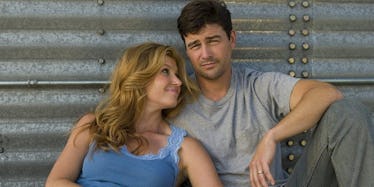 These TV Shows & Movies Are Leaving Netflix In October, So Get To Watching
NBC
Hulu may have won big at the Emmys, but Netflix is still the number one streaming service for most American households. Though we love their original movies and TV shows, the original reason it was adopted so widely was the wide variety of older shows and movies that it provided via streaming. But while Netflix brings great new stuff every month, it has to take stuff a way to make room. Here are the TV shows and movies leaving Netflix in October.
The biggest title heading for pasture this month is 30 Rock, Tina Fey's groundbreaking series that was a fictionalized idea of what it is to make a show like Saturday Night Live. It made permanent stars of such SNL alums as Tracy Jordan and revived the career of Alec Baldwin.  A perennial favorite of binge-watchers, Netflix will be taking down Seasons 1-7 starting October 1st.
In other notable titles departing, Friday Night Lights will be switching off. One of the most sympathetic portrayals of modern American life and high school, as well as a look into what football is the most popular sport of our nation, heads out on Oct. 1, all five seasons of it. Full eyes, clear hearts, can't lose. Hopefully, it will turn up streaming elsewhere soon.
Speaking of teenage life, One Tree Hill Seasons 1-9 is also taking off. One of the few shows that was on the WB and then crossed over to the CW during the channel transition, this program, which made a household name out of Chad Michael Murray, lasted nine full seasons, despite all the odds against it. All nine seasons are also what will be leaving. The Scott Brothers live on in our hearts though.
Malcolm in the Middle is also leaving, ironically just as it's star Frankie Muniz is making a comeback on ABC's Dancing With The Stars this season. One might think Netflix would keep the show around in hopes his run on the dance floor might inspire a revival, but not to be. All seven seasons of it are saying farewell.
Other full seasons of TV shows leaving: My Name Is Earl (Seasons 1-4), Prison Break (the original, not the recent reboot, Seasons 1-4), The Bernie Mac Show (Seasons 1-5) and the all time classic The Wonder Years (Seasons 1-6.) also, to my great regret, David Attenborough's Rise of the Animals is leaving. I love all of his nature programs.
In movies, some of the most notable titles making way for new fare are the Cohen Brothers' Barton Fink, the Christmas favorite Love Actually (which makes no sense -- shouldn't they keep it until January?) and Titanic, because all that was good as right about 1997 is twenty years old.
Let's run down the full list of what's heading for the hills this month on Netflix streaming.
Leaving 10/1/17
30 Rock: Seasons 1 - 7 A Love in Times of Selfies Across the Universe Barton Fink Bella Big Daddy Carousel Cradle 2 the Grave Crafting a Nation Curious George: A Halloween Boo Fest Daddy's Little Girls Dark Was the Night David Attenborough's Rise of the Animals: Triumph of the Vertebrates: Season 1 Day of the Kamikaze Death Beach Dowry Law Dr. Dolittle: Tail to the Chief Friday Night Lights: Seasons 1 - 5 Happy Feet Heaven Knows, Mr. Allison Hellboy Kagemusha Laura Love Actually Malcolm in the Middle: Seasons 1 - 7 Max Dugan Returns Millennium Million Dollar Baby Mortal Kombat Mr. 3000 Mulholland Dr. My Father the Hero My Name Is Earl: Seasons 1 - 4 One Tree Hill: Seasons 1 - 9 Patton Picture This Prison Break: Seasons 1 - 4 The Bernie Mac Show: Seasons 1 - 5 The Shining The Wonder Years: Seasons 1 - 6 Titanic
Leaving 10/19/17
The Cleveland Show: Seasons 1 - 4
Leaving 10/21/17
Bones: Seasons 5 - 11
Leaving 10/27/17
Lie to Me: Seasons 2 - 3
Louie: Seasons 1 - 5
Hotel Transylvania 2
Leaving 10/29/17
Family Guy: Seasons 9 - 14