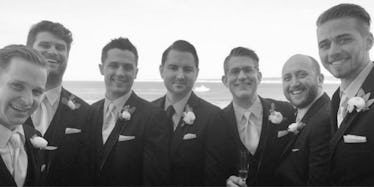 There Was A 'Laguna Beach' Reunion At Dieter's Wedding And We Feel Old
The cast of "Laguna Beach" is finally doing what Hilary Duff wanted all along: going back to the beginning.
Well, sort of. There were a lot of them at Dieter's wedding, anyways.
Yep, Dieter Schmitz, one of the stars of MTV's hit reality series of the early 2000s, got married this weekend. His new wife is not Jessica or Mollie, but a woman named Isabell Hiebl.
The couple had a beautiful ceremony in Monterey, California, and guess who showed up to celebrate with them? Dieter's old co-stars and longtime friends Lauren Conrad, Stephen Colletti, Trey Phillips and Loren Polster.
Not only were Dieter's co-stars present, they were actually groomsmen in his wedding. I guess "Laguna Beach" really is forever.
Stephen gushed about his bro's big day on Instagram.
This picture is adorable, even if the caption about German/Austrian relations is a little odd.
Look at these fine-looking groomsmen.
Don't worry, Lauren was there, too!
She was also super happy for her longtime friend.
This is proof "Laguna Beach" will never truly be gone.
Best friends for life.
And none for Kristen Cavallari. Bye!
Citations: 'Laguna Beach' Cast Reunites for Dieter Schmitz's Wedding: See the Beautiful Pics With Lauren Conrad, Stephen Colletti, and More! (Entertainment Tonight)