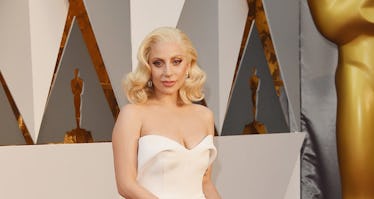 Lady Gaga Wore Secret Pants To The Oscars And Fooled Us All
Getty Images
You know Lady Gaga does what she wants with her body (body)... and what she wanted to do tonight was WEAR SECRET PANTS.
Yep, Gaga's out there on the red carpet for the 88th Academy Awards wearing what at first glance appears to be just a normal, white dress — but take a closer look, my friends. That is a cleverly-camouflaged pair of slacks.
SEE? DO YOU SEE THE SECRET PANTS? That is the coolest "dress" ever. Naturally, Twitter is all aflutter over these concealed trousers.
Hmm, what to wear to the Oscars, pants or a dress? Gaga says, "Why not both?"
Lady Gaga looks BOMB All white + pants + dress? Killing it. #Oscars pic.twitter.com/ArGdZmp816 — Anna Marum (@annamarum) February 29, 2016
Gaga don't give a f*ck. Gaga looks fierce and has hella mobility on the red carpet.
Lady Gaga in a fashion-forward pants dress on the #Oscars red carpet! Yaaaaaaaaaaaas pic.twitter.com/Kw818xmrOO — Landii S (@landiiskiez) February 29, 2016
When she's feeling the dress look, all it takes is some careful positioning and BOOM. Now it's a dress.
YAAAAAS, GAGA! YOU LOOK SO GOOD! WEAR THOSE SECRET PANTS!