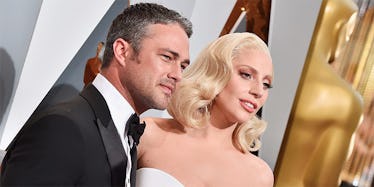 Lady Gaga Shares Incredibly Powerful Instagram About Sexual Abuse
Getty Images
Lady Gaga performed her Oscar-nominated single, "Til It Happens To You," a powerful ballad sung from the point of view of a victim of sexual assault, at the 88th Academy Awards on Sunday night, and she got a standing ovation.
The song, written by Diane Warren and Lady Gaga, is featured in "The Hunting Ground," a documentary about campus rape and the fight for justice. Rape and sexual violence are topics very close to Lady Gaga, as she has opened up about being raped and her struggles to move past the associated shame and stigma.
On Sunday, just about an hour before her live performance, she posted this emotional Instagram.
Her caption, dedicated to her fiancé, Taylor Kinney, reads,
I never thought anyone would ever love me because I felt like my body was ruined by my abuser. But he loves the survivor in me. He's stood by me all night proud and unashamedly. THATS a real man.
"Til It Happens To You" may not have won an Oscar, but Lady Gaga's impassioned performance and efforts to bring such an important issue to light make her a winner in everyone's eyes.