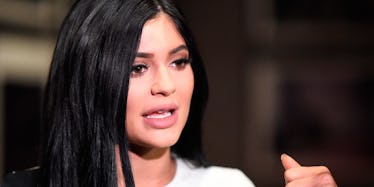 Kylie Jenner's Lip Kits Are Making Everyone Freak Out, Again
Getty Images
WHERE THE EFFING CHRIST ARE OUR GODDAMN LIP KITS, KYLIE?!?!
We all want lips like Kylie Jenner's. Have you seen them?
They're perfect. They look like God herself made two pink buttermilk crullers and gently attached them to a porcelain doll. Not one of those creepy totally haunted porcelain dolls either. I'm talking about like a not-haunted sexy porcelain doll.
That's probably why everyone lost his or her dang minds when Kylie announced her lip kit would be going on sale.
For $29 dollars, people could shape their mouth gates to look like mouth gates crafted by Jenner genetics and what I can only assume is a 30-person task force employed with the sole mission of making America's first family (sorry, Obamas) look like super hot, sexy, not-haunted-by-the-evil-spirit-of-a-child-who-died-in-a-fire-at-a-printing-press, sexy, hot porcelain dolls.
Unsurprisingly, the lip kits sold out in seconds, which made everyone who couldn't get his or her hands on a box furious.
But now it seems even those who were able to hit the checkout button fastest are getting pretty peeved because their lip kits have yet to arrive.
SO, WHAT'S THE DEAL, KYLIE?!?!
Many customers have said even though they received tracking numbers and email confirmations, they still have not had actual deliveries of the product to their homes.
C&S Sales, the group in charge of the lip kit's distribution, has not released a statement, and according to several tweets, it has been less than helpful when it comes to customer service.
TMZ is reporting several customers are now threatening to report C&S to the Better Business Bureau.
Ironically, Kris Jenner announced on Monday lip kits have been restocked if you want to get in on this e-commerce nightmare.
Citations: Heres Why Fans Who Bought Kylie Jenners Lip Kit Before It Sold Out Are Angry (Cosmopolitan)