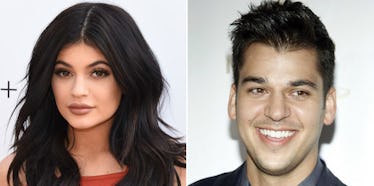 Kylie Jenner And Rob Kardashian Shut Down Rumors Of A Feud By Hanging Out
Getty Images
Anyone who believes Kylie Jenner and her brother Rob Kardashian are hung up on the dizzying romantic history of their partners can, honestly, get out of town right now.
Now that the Kylie/Rob feud truthers are gone, it's time for some heartwarming news.
Kylie and Rob enjoyed family time together on Tuesday, and proof was posted all over Snapchat.
Despite Kylie's boyfriend, Tyga, and Rob's girlfriend, Blac Chyna, being ex-fiancés and sharing a 3-year-old son, King Cairo, the reality star siblings aren't letting stale drama keep them apart.
The Snapchat video shared by Diamond Supply Co. founder Nicky Diamond shows the duo hanging out in Kylie's Rolls-Royce with her dog Odie.
Though he took time away from the public eye, the video proves, in the immortal words of Sister Sledge (bastardized slightly for the purposes of this post), Rob is family. He has all his sisters, their boyfriends, his girlfriend and some weird, little dog.
Citations: Kylie Jenner & Rob Kardashian Were All Smiles While Hanging Out Amid Family Drama (Entertainment Tonight)