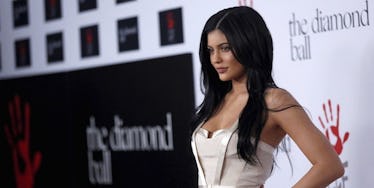 Kylie Jenner's Plastic Surgeon Speaks Out About Working With The 18-Year-Old
Mario Anzuoni/reuters
If you don't know about Dr. Simon Ourian yet, you should probably familiarize yourself with him because he's responsible for keeping the Kardashian-Jenner family literally ageless.
Yes, I do mean literally. Kylie Jenner has been 18 years old for the past 37 years.
Ourian, the founder of the Epione clinic in Beverly Hills, California, is one of those high-end plastic surgeons to the stars you always hear about on gossip shows. The ones who toe the line between doctor of medicine and modern-day witch doctor defying God Him/Herself to help clients win the depressingly brutal battle against the concept of aging.
Simon sat down with Khloé to talk about the skin game (Ew. There has to be a better word for this.) on her website and it turns out he's got a little skin crush (Ew. Once again, there needs to be a better word) on Kylie.
When asked about which Kardashian-Jenner he likes working on the most, Ourian answered,
That is a hard question because I love all of you and working on you is all about fun. You are very dedicated to anything you are involved in. You are intrigued by all the new and exciting things we can do and I love the transformation you have had with all your own hard work and a little help from me. Kim is very detail-oriented and knows exactly what she wants and needs, so when I work on her, it is like working with a colleague and I really enjoy it. Kylie has become very wise in what she wants to have done and she has been going through an amazing metamorphosis over the past couple of years.
Interesting. Looks like Kendall and Kourtney can go eat a sh*t pie in Uglyville for all Ourian cares.
Aside from that though, it seems Kylie has sort of grown* over the past few years.
*had medical technology do all the growing for her.
In case you need a better visual, she's gone from this.
And this.
To this.
And this.
TAKE THAT, THE NATURAL CONCEPT OF AGING! IN YOUR F*CKING FACE!
Citations: KYLIE JENNERS PLASTIC SURGEON SAYS SHE HAS BECOME VERY WISE ABOUT WHAT SHE DOES TO HER FACE (Harper's Bazaar)