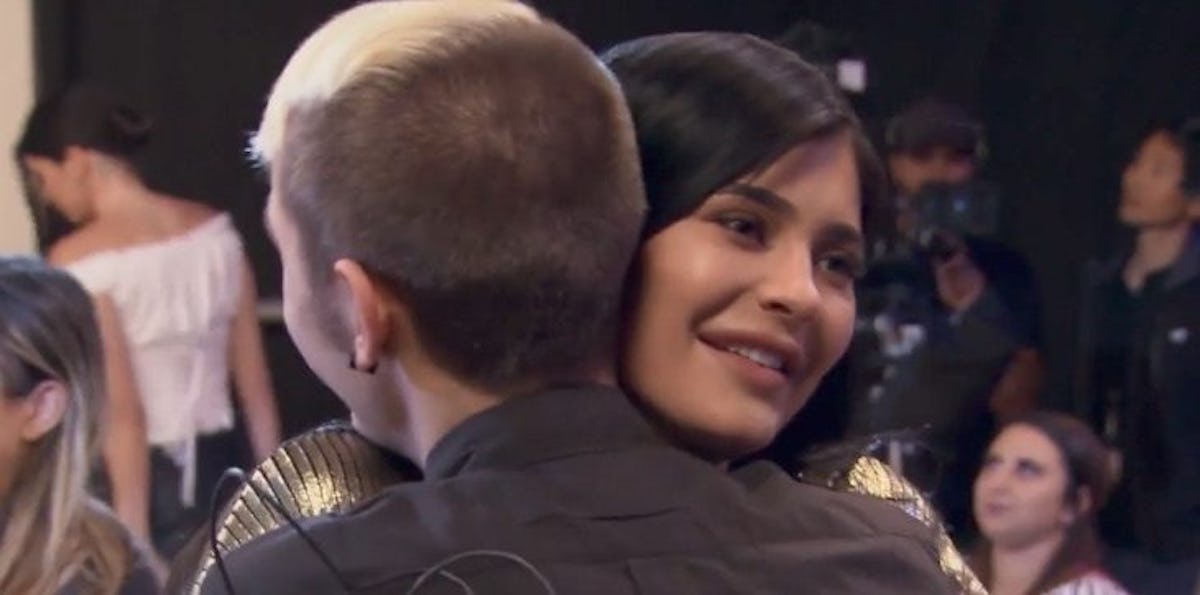 Who Does Kylie Jenner Hug At The 'KUWTK' Anniversary Special? Her Biggest Fan Was There
E!
The Keeping Up With the Kardashians 10th Anniversary Special was everything loyal viewers of the famous family would want it to be. We laughed. We cried. We looked back. We learned the correct to say "okurrr." And while we're all happy to get some serious insight into the minds of some of TV's most talked-about group of people, one of Kylie's hugest followers was lucky enough to have a mini-reunion with the star herself. Who did Kylie Jenner hug at the end of the reunion special? It was a blink-and-you'll-miss-it moment, but it showed us the real connection these larger-than-life celebrities can have with their fans.
One Kylie superfan in particular, Johnny Cyrus, got the chance to be front and center in the audience of the show and at the end we could see Jenner giving him a hug, saying sweetly, "I didn't know you were gonna be here." Aww. One thing the KUWTK 10th Anniversary Special reminded us was the tremendous influence the Kardashians and Jenners have had on America and beyond, how far they've come over the last decade, and how good they are to the people who love them. Their reach is undeniable and Johnny is exhibit A.
Talk about the thrill of a lifetime for such a devoted fan. Don't believe Johnny's dedication? Well, it's permanent. Johnny made headlines last year by showing his love for Kylie and her makeup line Kylie Cosmetics when he tattooed a swatch of her LipKit on his arm. "I love the colors so much I needed them on my body," he told BuzzFeed in 2016.
Yup. That's some serious fan ink right there. But that's not the only Kylie-centric iconography he has on his body. Johnny also got the LipKit logo, the Kyshadow logo, the words "like literally so cute" (a combo of her lip gloss names and something many people can admit to saying on a regular basis), a Kimoji of Kylie, and more. The Wisconsin native is basically a celebrity in his own right at this point.
In an interview video for SuperDeluxe Cyrus said that when he showed Kylie his tattoo she posted it on SnapChat. And we all know the power of a Kylie Jenner social media act. "I went outside to try and leave and everybody started screaming my name wanting pictures." It was then that he realized his popularity. "People look at me as like a fan, but they also look at me as like a friend," he notes.
And that fandom/friendship comes with some pretty cool perks. Johnny's gotten gifts, access to events, and over 27 thousand Twitter followers. Not bad. And why does he love and respect the young makeup maven and reality TV star so much? "How confident she is with herself!" he old StyleCaster last year.
And his thoughts on people who don't understand his fandom? "I just question why people hate on me for getting these tattoos. It's like no different than someone getting a Family Guy tattoo, Star Wars, or like anything in that matter. I don't see the differences," Johnny explained to PopCrush.
Touche.
"They'll be times when you feel like you're doing this show, and does it make a difference?" Kris Jenner mentioned on the KUWTK 10th Anniversary Special while discussing the significance of the show on viewer lives. "People are always saying 'because of you guys I got through something that was really hard for me,' so that makes me happy."
Whether fans relate because they're going through something or they just love the style, confidence, or attitude the Kardashian/Jenners emanate, there's no doubt that the family has had a major cultural impact. Their fans are living proof.