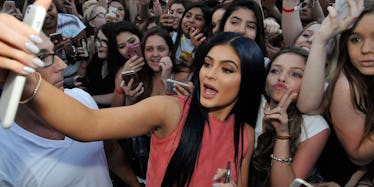 Here's What You Learn After Spending 24 Hours With Kylie Jenner
Getty Images
You know Kylie Jenner from her Instagram posts, her Snapchat pics and her appearances on "Keeping Up with the Kardashians."
But at the end of the day, do you really know who Kylie Jenner is? IDK, probably not.
If you've ever met a celebrity in person, I'm sure he or she either lived up to your expectations or left you feeling disappointed.
Either way, it's hard to really know what famous people are like until you meet them for yourself.
That's where Maria Hatzistefanis, the founder of Rodial Skincare, comes in.
This beauty guru spent 24 hours with Kylie Jenner and shared the experience on her YouTube channel.
Kylie is now the ambassador of Hatzistefanis' brand, Nip + Fab, so followers have requested details about what Kylie is really like.
In the video up top, check out Hatzistefanis' answers to some of the burning Kylie Jenner questions I'm sure are on your mind.
Like, what's Kylie's addiction? What's her favorite junk food? Favorite color? AND OH, what's her beauty secret?!
Press play to find out.