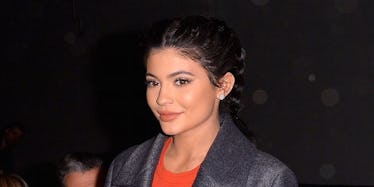 Kylie Jenner Responds To Rumors She's Pregnant In The Best Way
REX/Shutterstock
Kylie Jenner would like to have a word with anyone who's spreading rumors that she's pregnant.
The "Keeping Up With The Kardashians" star had the best response when she read headlines about her own pregnancy.
In a deleted scene from the family's TV show, Kylie is seen talking with her sisters and Corey Gamble. The segment begins with Corey speaking to the girls about his upcoming plans with Kris Jenner.
Corey says he wants to take Kris rollerskating and asks if the girls would like to join.
Suddenly, Kylie interrupts Corey (poor guy) to tell Kim and Kourtney she's apparently pregnant. The 18-year-old exclaimed,
Why is everyone saying that I'm pregnant?
UM, SURPRISE KYLIE! You're having a baby! Who would know better than the media? CONGRATS, BB!
I think Kylie's funny in the clip, but the real MVP of the convo is Kourtney. Kylie's big sis chimed in and asked,
Who's the dad?
LOL, good one, Kourt. I don't really care who the father is, I just want an invite to the baby shower!
Kylie's had to address several rumors about herself in the tabloids lately, including one about a sex tape.
The star put those rumors to rest in a Snapchat last night, even though the video has been deleted from her story. It's cool, though, you can watch it below.
So, just to set the record straight, Kylie ISN'T pregnant and she ISN'T releasing a sex tape. Is everyone on the same page now? Good.
Be sure to watch Kylie and Kourtney's hilarious conversation in the clip above.
Citations: Kylie Jenner Pregnancy Rumors (E Online)