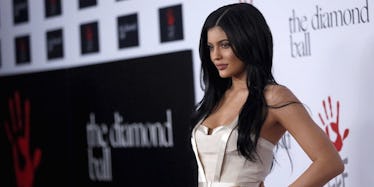 Kylie Jenner's Newest Magazine Cover Will Scare The Sh*t Out Of You
REUTERS/Mario Anzuoni
YO, KYLIE, WHAT'S GOING ON WITH YOUR FACE?
The "Keeping Up with the Kardashians" star is on the cover of Paper magazine, and the issue is available on newsstands April 12.
Kylie Jenner just shared the cover photo with her fans on Instagram, and let me just tell you, it's freaky AF.
The 18-year-old explained some of her features were enlarged, so that's why she looks like a plastic, alien bobblehead, I guess.
The caption reads,
Wow wow wow my @papermagazine COVER on newsstands 4/12. This is so amazing. Photographed by @erikmadiganheck styled by @rushkabergman #YOUth (and yes my eyes and lips are edited to look bigger)
She looks like she just saw a bacon, egg and cheese sandwich or something and hasn't eaten in years. WHAT ARE YOU SO EXCITED ABOUT IN THIS PIC, KYLIE? WHAT ARE YOU LOOKING AT?
WHY DOES YOUR HEAD LOOK LIKE IT'S FLOATING IN AN OUTER-SPACE, COTTON-CANDY LAND?!
I'm not the only one who thinks something is a little off.
Kylie Jenner's cover for paper magazine really is not cute. She looks like a doodle bop. — M A R K . (@_xmarkandrew) April 4, 2016
I can't breathe. This one's too much.
someone said kylie looks like Pepe the frog in her paper magazine shoot — Naadia (@naliyallah) April 4, 2016
Kylie, it's not your best, but we all still love you. Better luck next time.