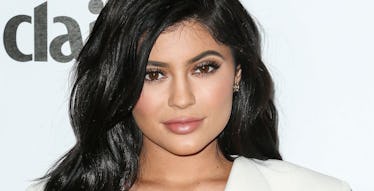 Kylie Jenner Is Doing An Amazing Thing To Help Prevent Bullying
REX/Shutterstock
If you haven't heard, Kylie Jenner just launched a new nail polish line.
Yup, if you're a fan of her Lip Lits and makeup tutorials, then I suggest you check out her polishes. I'm really into the color selections, so it looks like she did a great job.
YOU GO, KYLIE.
On top of that, the 18-year-old reality star is doing something really cool with the proceeds!
Kylie Jenner and SinfulColors partnered with LA's LBGT Center and Stomp Out Bullying to focus on ending bullying and discrimination.
The "Be Konfident, Kompassionate & Kourageous Stomp Out Bullying" event will raise money for both organizations. SinfulColors even created an #IAmMoreThan Charity set of nail polish that will be auctioned off on Charitybuzz.com.
The event will have 10 nail polish sets autographed by Kylie Jenner, so fans will have the opportunity to take home souvenirs. THANKS, KYLIE.
The sets will include three polishes: Kompassionate, Kourageous and Konfident. LOOKS DOPE.
Kylie often uses her Instagram to speak out about the harmful effects of bullying, so it's great to see her putting her line behind a cause she cares about.
AWESOME JOB, KYLIE. You the bomb diggity-dog.
Citations: Kylie Jenner Nail Polish Line (WWD)