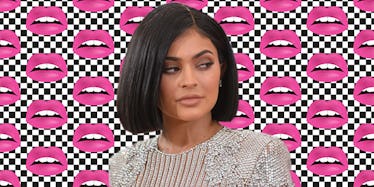 Kylie Jenner's New Lip Kit Leaked On Instagram And She's Taking Serious Action
REX/Shutterstock
KYLIE JENNER IS NOT OK.
The 18-year-old reality star went after people on Instagram when her new lip kit color leaked online.
Perhaps you saw her new matte lipstick shade "Leo" on social media over the weekend. WELL, that wasn't because Kylie posted it. In fact, the Instagram account The Lip Snitches is responsible for the leak.
Here's what went down. The Lip Snitches posted the initial Instagram of Kylie's new color. The image spread and Kylie Cosmetics' legal team has been going after all the users who added the image without permission.
The Lip Snitches explained what happened with Kylie's Lip Kit in this Instagram post.
In the caption, The Lip Snitches explains it was the first account to post images of the last lip kit leak. The user apologizes to Kylie Cosmetics and says it will do what it can to help get rid of the unauthorized photos floating around.
POOR KYLIE.
ANYONE WHO MESSES WITH KYLIE JENNER, MESSES WITH ME.
If you happened to be one of the people who reposted Kylie's new lip kit, then I suggest you delete it unless you want to be on Kylie's bad side, just sayin'.
PS: According to Kylie's recent tweets, it looks like new lip kits are coming soon. If you got excited about "Leo," then it's probably on the way!
Don't worry, Kylie. I've got your back.
Citations: Kylie Jenner Lip Kit Leak (Cosmopolitan)