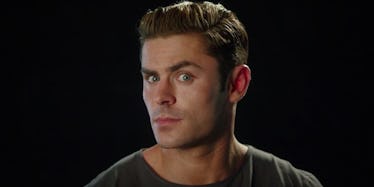 Zac Efron And Kristen Bell Hilariously Troll How Dramatic Celebrity PSAs Are
YouTube
Red Nose Day is a time for celebrities to come forth, share their humor and help impoverished children live better lives, but certain celebrities are done with classic call-to-action videos.
Leading up to tonight's special at 9 pm on NBC, celebs like Ellen DeGeneres, Emma Watson, Anna Kendrick, Lena Dunham, Julianne Moore, Tracy Morgan, Zac Efron, Liam Neeson, Bono, Chiwetel Ejiofor, Kristen Bell, Will Ferrell, Tyler Perry, Michelle Rodriguez and more starred in the PSA to end all PSAs.
Together, in short snippets, the cast explains,
Group pleas like this can leave celebrities who are used to being the center of attention feeling underutilized, superfluous and insignificant… It can be hard to understand why some of us get a ton of screen time and others barely get any… There has to be an explanation of why a major star sometimes just gets a one-syllable word to say, while some guy who was in a sitcom years ago and died in 'Jurassic Park,' of course, gets to go on and on and on.
Let's pray tonight's broadcast gives screen time where screen time is due:  Zac Efron's abs.
Citations: Efron Explain Why They Hate This Video (ELLE)