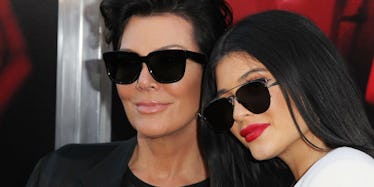 Kris Jenner Gave Kylie This Purse That Probably Costs More Than Your Rent
Getty Images
Isn't it fun getting a Valentine's Day treat from your parents? Yeah, it's a little lame, but it's a reminder someone out there loves you.
Kris Jenner reminded daughter Kylie of her unconditional adoration with a little Valentine's tchotchke, and the exchange was captured on the 18-year-old's Snapchat.
Happy Valentine's Day, Ky!!!
Aw, adorbs! A pink, sequined purse! I should get one for my sister for V-Day!
I'll just Google prices and — HOLY SH*T. HOW DOES A PURSE THAT SMALL COST THAT MUCH?!
Kylie's new Chanel pick-me-up costs anywhere from $3,000 to $5,000.
$3,000 to $5,000?!?! THAT PURSE COULDN'T EVEN CARRY $3,000 TO $5,000.!!!
Sorry, friends and loved ones. You're getting jack for Vally's Day, as per usual.