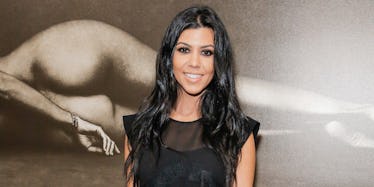 Kourtney Kardashian Just Posted A Super Sexy Instagram Of Her Butt
Chelsea Lauren/REX/Shutterstock
Kourtney Kardashian seemed to have a pretty wild time celebrating her 37th birthday in Iceland.
The trip is being filmed for "Keeping Up with the Kardashians," so I'm sure we'll all get to see lots of behind-the-scenes action in the show's next season.
But if you'd like a sneak peak of what went down this week, check out this sexy pic Kourtney uploaded to Instagram.
The birthday queen captioned the photo,
Eski-ho.
OOOOOOOH, NAUGHTY.
It looks like Kourt still has that CRAZY COLLEGE GIRL inside of her. Let it out, girl, let it out.
I'm not quite sure when Kourtney's birthday extravaganza comes to a close, but I think it's safe to say she had a pretty sweet celebration.
Happy birthday, Kourt! You don't look a day over 20.