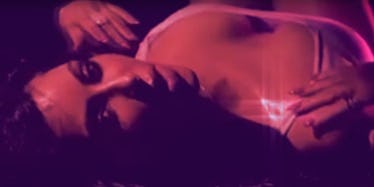 Kim K Captioned This Selfie With An Epic Throwback To Her Singing Career
YouTube
Friendly reminder: Kim Kardashian had a music career for 45 minutes in 2011.
Reality celebrities and short-lived music careers go hand-in-hand like horse and carrots or James Corden and cars with GoPro cameras on the inside of the windshield and celebrities singing in the passenger seat.
In fact, I'm pretty sure the only REAL litmus test reality stars have to gauge their level of success is whether or not their managers thought it was worth it for them to try and break into the music industry.
Sure, there are cases of reality celebs going on to have massive careers, but that hardly ever happens. Aside from Lauren Conrad, Elisabeth Hasselbeck and the other 1 percent-ers of reality TV, it's like there is an unwritten pact among show standouts to try and become bigger than the show they're on with a combination of miserable lyrics and over-synthesized rhythms.
Do I even need to remind you about Countess Luann?
What about Kelly Osbourne?
Believe it or not, Kim Kardashian was in those same shoes at one point.
Let me transport you back to 2011. America just killed Osama bin Laden, Kate Middleton got SUPER married and "Thor" hit movie theaters.
Yup, it was an exciting time to be alive. That is, of course, if you weren't Kim Kardashian.
This was before mobile social media REALLY started to take off, meaning Kim was still essentially just a reality star -- an admittedly really big reality star, but still she was really only known for her penchant for dating NBA stars and having sisters who sounded like a choir of vuvuzelas when they spoke.
As far as she knew, "Keeping Up with the Kardashians" couldn't last forever (BOY was she wrong), so she made the panicked decision to try to get into music with her single "Jam (Turn it up)," a song that sounds like if a bowl of MDMA farted on a computer keyboard.
The song obviously flopped, though half of the proceeds from it did go to St. Jude Children's Research Hospital, and I'm sure it used that $32.50 wisely.
Don't worry, though, Kim found out about Instagram and Kanye a few years later, so she'll be fine. Plus, her family found a way to breed a new generation of internet celebrities to keep the show relevant and on the air for the next 400 years.
Also, money. She has a lot of money.
Earlier this week, Kim sent out an Instagram pic with a throwback reference to her short-lived career.
The caption is, of course, from her song's memorable lyrics:
Turn me up, turn me up, turn me, turn m,e turn me up, yeah, yeah, yeah, yeah, yeah, yeah, yeah, yeah, yeah. Turn me up, turn me up, turn me, turn me, turn me up, yeah, yeah, yeah, yeah, yeah, yeah, yeah, yeah, yeah I'm going out tonight. It's going down. Headed straight to the front of line, on the fly. On the floor I can't stay still. I'm going to work like I'm paying my bills.
No clue how she didn't win a Pulitzer for that gem.
Citations: Kim Kardashian Reminds Fans of Her Short-Lived Singing Career With a Super Sexy Selfie (Us Weekly)