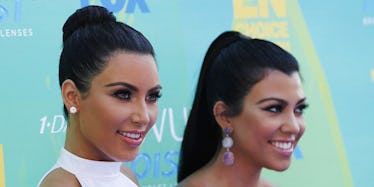 Kim Kardashian Face Swapped With Her Sisters, And Everyone Looks The Same
Danny Moloshok/Reuters
I'm not a fan of face swapping, but I'm actually sort of at peace when Kim K does it.
I know some people love face swap technology, but I hate it. I hate it soooo much. It has turned Snapchat into a terrifying place. I've never seen a face swap and not shat myself a little bit. Dogs faces on humans, baby faces on grown men, this lady's face on a boob. It's horrifying.
The Kardashians have been taking part in some face swappin' lately, and I'm not going to lie: Their faces kind of fit on each other's heads.
Kim swapped faces with Kourtney, and it looks totally normal...
Like, oddly more normal than anything else this family does.
She then did it with Kylie, and once again, it just looks normal.
The fact the Kardashians and Jenners can switch faces with each other and look totally fine is actually kind of Zen. Everything fits in this world, and our shells are all just interchangeable mortal capsules, drifting through time and space.
Anyway, that's what I've learned from Kim Kardashian West's Snapchat today.
Namaste.