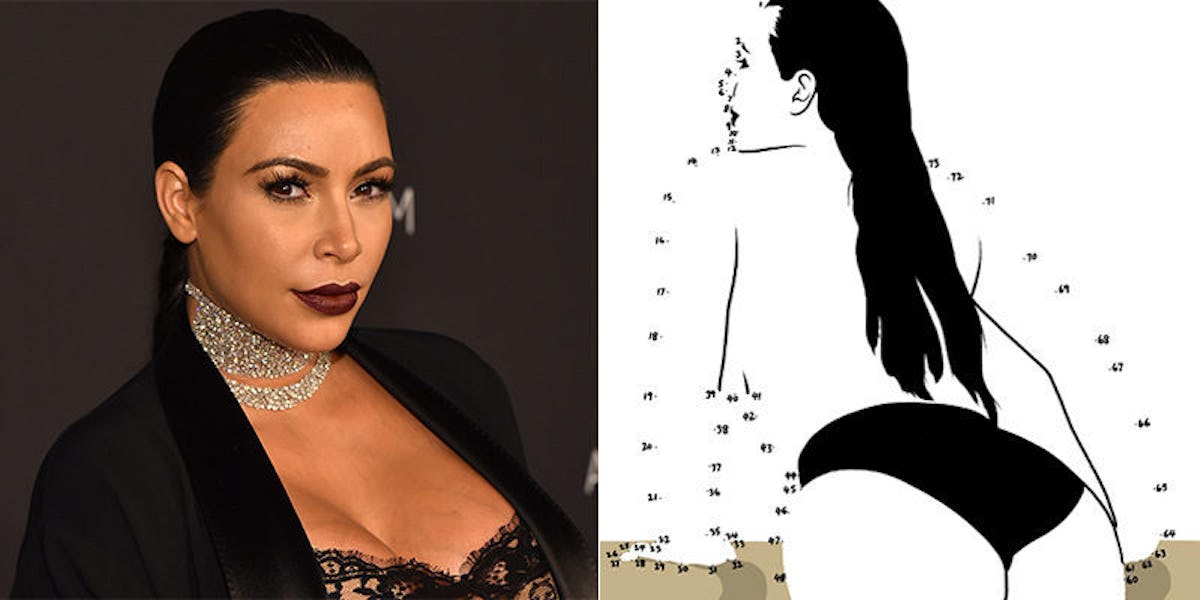 You Can Draw Kim K Naked On The Beach With This Connect-The-Dots Book
Getty Images
Don't worry, everyone. Your prayers were answered.
You can now make Kim Kardashian West's butt as big as you'd like with this new connect-the-dots book!
Each image features a different sexy Kim K pose, and YOU get to connect the dots to make her complete. It's interactive AF. Is this the best day of your life or what?
A team of illustrators came together to create a book that will make you see Kim K in a whole new way. You'll probably feel closer to her than you ever have before because, you know, you're drawing on her butt.
If you can count to 100 AND are a Kardashian fan, then, damn, this is the book of your dreams.
The book is called "Doin' It With Class" because that's the only way yo' girl Kimmy knows how to LIVE.
Connect those dots, and color in that booty like nobody's business. This is your time to shine.
The fun doesn't stop there. CHECK OUT KIM K'S BOOTY HERE. Grab that pencil, and get to work. You know what to do.
You can even color in Kim's clothes and style them however you'd like. Kim, I hope you're ready for this makeover.
You can complete Kim's hairdo for her. Help this girl out!
You'll have to connect the dots to find out what Kim's jacket says, and Kanye makes an appearance, too. SUP, KANYE?
JUST, PLEASE, HELP KIM GET HER BODY BACK. HER FATE IS IN YOUR HANDS.
Be sure to buy this book for the Kim K lover in your life. You won't regret it, I promise.
Citations: Doin It With Class - The Kim Kardashian Dot to Dot (Sugoi Books)