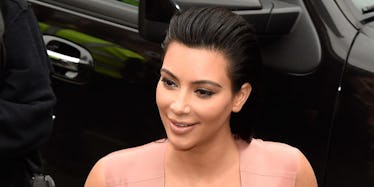 Kim Kardashian Celebrates 64M Instagram Followers In The Most Kim K Way Ever
Getty Images
Kim Kardashian West is, like, kind of popular or whatever, I guess.
If you see Kim Kardashian West walking in the street today, make sure to go up to her directly, give her a big hug and congratulate her for for reaching 64 million followers on Instagram.
Actually, maybe don't do that. You'll probably get arrested or, at least, drop kicked by the army of guards I assume follow her at all times.
Maybe just comment on this Instagram post she put up celebrating the milestone.
Elephant in the room: This is a bittersweet moment for Kim -- 64 million followers is a buttload of followers and puts her ahead of social media megastars, like Ariana Grande and Justin Bieber who have 63.7 and 61.9 million followers, respectively.
But, it also comes just five days after Selena Gomez became the most followed person on Instagram with 70.1 million followers, and let's not forget Kim still sits behind Taylor Swift, who has 69.6 million of her own Insta-Swifties.
That being said, she's still the most followed person in the Kardashian-Jenner universe, which is a major feat.
Here are the official Kardashian-Jenner Instagram rankings: Kim -- 64 million Kylie -- 54.6 million Kendall -- 51.7 million Khloé -- 44.8 million Kourtney -- 36.2 million
Kourtney, 36.2 million followers?!?! DO YOU EVEN EXIST?!?!
Citations: I love you guys Kim Kardashian celebrates reaching 64 million Instagram followers by sharing sultry selfie (Daily Mail)