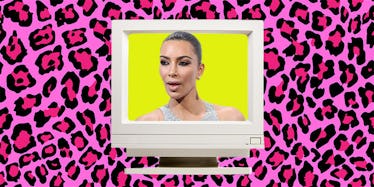 Kim Kardashian Is Bringing MySpace Back And Here's Who Made Her Top 8
REX/Shutterstock
I've never identified more with Kim Kardashian than I did today when I found out she had a MySpace account with a CONTROVERSIAL Top 8.
MySpace was a cultural zeitgeist that could easily be referred to as the "big daddy of social media" if you wanted to be the weird one in a talk about social media. Like, it'd be accurate, but who'd ever casually use the phrase "big daddy of…" in conversation?
Anyways, being that the internet was still a widely unknown medium, social media accounts became the sort of great equalizer between celebrities and normans. Everyone had a MySpace during the heyday of MySpace.
Kim Kardashian was no exception to the rule.
North's mom gave a shoutout to her old MySpace today on her website and it's arguably the most late-'00s thing of all time.
I MEAN, SHE EVEN HAS A MYSPACE LAYOUT CODE THING!
Kim then went on to list who her current MySpace top 8 would be:
1. Kanye My best friend. He always puts our family first and is the best father to our babies.
2. Allison Statter My BFF since childhood, Ali is hands down the most loyal friend I've ever had. 3. Jonathan Cheban The funniest person I know, and he's my ride-or-die. I always have fun with him, no matter where we are.
4. Larsa Pippen Larsa and I have been friends for years now. I always love seeing her!!!
5. Mario Dedivanovic My makeup artist for over 10 years now, Mario has also become one of my closest friends.
6. Stephanie Shepherd My assistant and one of my best friends, Steph Shep is a ride-or-die friend with an amazing sense of style.
7. Simone Harouche Simone and I grew up together. She's a talented stylist and we're still really close. It's funny that she's stayed in my Top 8 all these years!
8. Jen Atkin Jen is killing the hair game!!! I love working with her and she's also just a hilarious person to be around.
WOW. UMMMMM. COOOL. SOOOO I GUESS KOURTNEY, KHLOÉ, KYLIE, KENDALL AND KRIS CAN GO EAT A BIG OL' PLATE OF POOPY, RIGHT, KIM?!?!
Shocking.
Citations: Kim Kardashian Updated Her Myspace Top 8 (Buzzfeed)