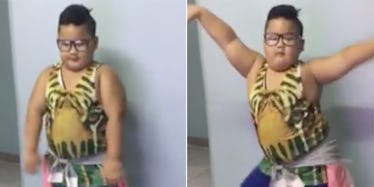 7-Year-Old Dances To Justin Bieber's 'Sorry,' Proves He's The Real MVP
You know that feeling when you hear a song you love and you just need to dance? Yeah, I get it.
So does this kid -- aka the master of breaking it down.
John Phillip Bughaw -- better known by his stage name, Balang -- has been on "Ellen" twice to showcase his killer moves. But his latest dance video tops them all; it's truly a gem.
In a video posted to Facebook, Balang does the damn thang to Justin Bieber's "Sorry," and it is magnificent.
There's really not much more to say besides you need to see this. So watch it. Enjoy it. And then watch it again — you'll want to.
Sorry by Justin Bieber Dance Cover ☺️☺️ #Sorry Posted by John Phillip Bughaw aka Balang on Saturday, January 30, 2016
Citations: THIS 7-YEAR-OLD DANCING TO JUSTIN BIEBER'S "SORRY" MAKES EVERYTHING OKAY (ELLE)