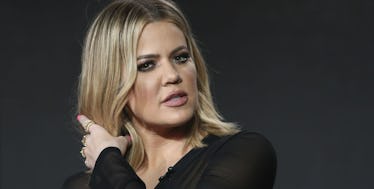 Khloé Kardashian Finally Joined Snapchat And Posted A Video With Lamar Odom
David Buchan/Variety/REX/Shutterstock
GET YOUR PHONES OUT! KHLOÉ IS ON SNAPCHAT! GO! GO! GO!
Last night the world was gifted the greatest present one can receive: Another member of the Kardashian family making her way onto Snapchat.
Hallelujah. Let the choir of the Lord share its gentle hymns from the highest point on the highest mountaintop. Amen.
The youngest Kardashian sister flocked over to the photo and video sharing app after what seems like YEARS since Kim, Kourtney, Kendall and Snapchat supreme leader Kylie made that little yellow icon with a ghost their respective home.
If you're pissed "Kocktails with Khloé" isn't a thing anymore, this should work as a pretty solid consolation prize.
Citations: This is scary Khloe Kardashian hangs out with Lamar Odom and lip syncs to explicit rap song as she joins Snapchat (Daily Mail)