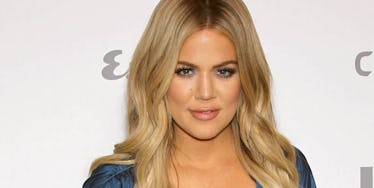 Khloé Kardashian Explains Why She Lived With An 'Older Man' When She Was 16
REX/Shutterstock
Yo Khloé Kardashian, take a seat. There are some things we need to talk about, so I suggest you get comfortable.
On Thursday, the "Keeping Up with the Kardashians" star shared some interesting information on her app.
Khloé told her fans she lived with an "older man" when she was 16 years old. Um, what? HOW OLD ARE WE TALKIN', KHLO?
The 32-year-old explained,
I worked as his assistant and lived in the home, but don't get it twisted — it was not intimate!
Uh huh, keep going. She added,
He had a family and I just lived in one of the bedrooms. I was rebellious and having an annoying time at home. My parents didn't want me to leave, but I was a little brat.
OK BUT LIKE WHO IS THIS GUY AND HOW OLD IS HE AND WTF IS HE DOING NOW? Give us more, Khloé. SPILL THE BEANS.
When I was 16, I was learning how to drive my mom's minivan in a CVS parking lot. When Khloé was 16, she was living with some mysterious man, working as his assistant. CELEBRITIES, THEY'RE JUST LIKE US!
After living with this rando, Khloé lived in a house in Van Nuys with rapper The Game and a few other guys. They were apparently good friends when they were younger. Aw, how sweet.
When the reality star turned 18, she ended up living at her dad Robert Kardashian Sr.'s place for some time. It seems like Khloé really moved around a lot.
GOOD STORY, BRO. NOW TELL US MORE ABOUT THE OLDER MAN.
Unfortunately, that's all Khloe had to say on the matter. Hopefully she'll share more about this grandpa soon.
Now Khloé lives in a Calabasas mansion, so I guess things turned out OK for her. It's all thanks to this random old man whom Khloé refuses to tell us more about. SERIOUSLY KHLO, WTF?
Ugh, I love her.
Citations: Khloé Kardashian Lived With Older Man (Us Magazine)