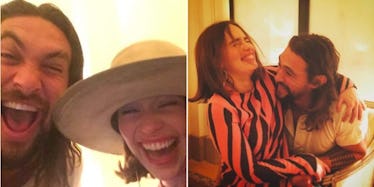 Khal Drogo and Khaleesi From 'GoT' Just Had The Cutest Reunion Ever (Photos)
Let's travel back to this moment when Daenerys Targaryen and Khal Drogo from "Game of Thrones" were in love and shared this deep, beautiful connection.
JUST LOOK AT THAT EYE CONTACT. LOOK AT HOW CLOSE THEIR FACES ARE.
It's been forever since we experienced this on-screen romance and it sucks because THEY ARE SO PERFECT.
But have no fear, everything is right in the world again. Emilia Clarke, who plays Daenerys Targaryen or Khaleesi, and Jason Momoa, who portrays Khal Drogo, had a truly magical reunion during Paris Fashion Week.
Just look at them laughing and smiling as happy as can be.
Look at that passionate embrace.
Take it all in, every sweet second of it.
Look at the way she looks at him. IT'S REAL, GUYS. IT'S REAL.
OK, Clarke's smiling at the camera, but whatever. Momoa was the one taking the photo. It still counts as adorable and shows she is forever the moon of his life. *Awwwwww*
Citations: Game of Thrones' Emilia Clarke, Jason Momoa Reunite, Make Drogo-Dany Fans' Dreams Come True, in Adorable Selfies (US Weekly)