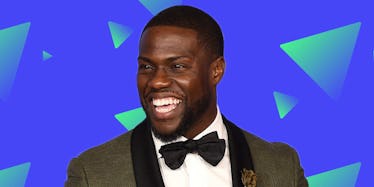 Kevin Hart Is Seriously Ripped, And We Need To Talk About It
REX/Shutterstock
Kevin Hart is small.
We all know this.
He looks small. He has told us he's small.
Like 98 percent of the advertising campaign for his new movie is based on the fact he's small.
EXCEPT did you guys know he's ACTUALLY NOT REALLY THAT SMALL AT ALL?!
OK, yes, Kevin Hart is short. But what he's lacking in height he is seriously making up for in biceps and abs.
I have so many mixed feelings about this.
On the one hand, you know, he's really hot. Major fan of that aspect.
On the other hand, I feel kind of betrayed?
It turns out Kevin Hart is super into fitness and stuff? Kevin, I thought you were lazy like us.
But nope -- he's actually all about being active and working out.
He even has his own workout with Serena Freakin' Williams, called "The Hart Serena," which you find in the Nike+ Training Club app.
LOOK AT THEM TRAINING TOGETHER AND BEING SUPER FIT AND AWESOME!
If you're training with Queen Serena Williams, you KNOW it's serious.
And um, I'd say all the working out is really paying off.
Like REALLY paying off.
Kevin, I thought you were busy crushing world tours and making like five movies a year?!
HOW DO YOU HAVE TIME TO WORK OUT THIS MUCH AND LOOK THIS GOOD?
I seriously never knew this side of him, but I'm very into it.
No no no, it's simply unfair to look this good on a bike. I'm talking to both of you.
This video is cracking me up but also making me feel SO many things.
Now you know the truth: Kevin Hart is not small. He is freakin' jacked.
Good for him for being healthy, loving himself and being super hot. It almost makes me want to work out, too.
Almost.
Citations: Serena Williams and Kevin Hart want you to do this workout (ESPN)