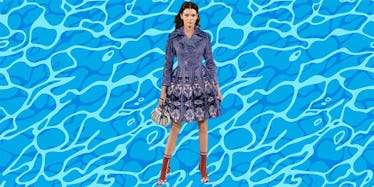 These Photos Of Kendall Jenner Walking On Water Are Unbelievable
REX/Shutterstock
I'm not saying Kendall Jenner is Jesus, all I'm saying is she walked on water last night AND I've never seen them in the same room together.
Just something to think about.
OK, she didn't actually walk on water, but she did come pretty darn close.
The 20-year-old model opened Fendi's 90th-anniversary fashion show in Rome on Thursday by walking over the Trevi fountain.
She and the other models walked out onto a transparent platform suspended just above the water, which sounds pretty scary, especially in those heels.
The fear factor was worth it, though, because the results were absolutely gorgeous. It looked like it was straight out of a fairytale.
"Fairytale" happened to be EXACTLY what the show was going for, as the name of it was "Legends and Fairytales." I'd say they did a pretty good job with the theme.
I can't get over this picture of Kendall. It looks like a painting.
A princess come to life.
Bella Hadid also walked in the show and got her share of gorgeous pictures as well.
She looks like some kind of beautiful earth witch (the good kind).
I'm in awe of both of these ladies. If that had been me on the runway, I would have fallen into that water so fast.
But luckily, no one took an unexpected swim because everyone there was experienced and poised. Unlike me.
Citations: Kendall Jenner Walks On Water For Fendi Anniversary Show (Refinery29)