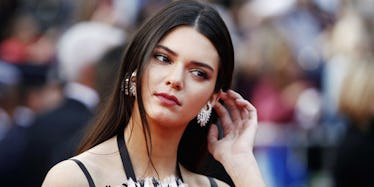 It Looks Like Kendall Jenner Has A New Career And She's Killing It Already
Shutterstock
Kendall Jenner has been a model for, like, seven whole years and she's ready to move the eff on to a new career.
On Tuesday, the 20-year-old posted a photo on Instagram of a pic she snapped for LOVE magazine.
In it, model Kaia Gerber poses in a sunny field looking as all-American as a girl in a denim jacket can possibly look.
Kaia and Kendall share more in common than unattainable thigh gaps and successful careers in the fashion industry.
Kendall's subject is also celebrity spawn.
Kaia's mother, Cindy Crawford, made moles THE thing to have on your face in the '90s (take a seat, Enrique).
Kaia and her supermodel momma have shared the cover of Vogue Paris.
And both apparently have a thing for sporting complimentary Coco Rocha jumpsuits, posing for Sam Jones and taking faded photos with Victoria's Secret Angels.
Basically, Kenny's photography debut was with fashion royalty who long predates her immediate family's own involvement in the industry.
Good on you, KJ, ya big ol' pro.