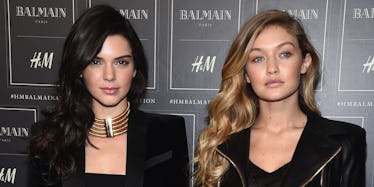 Kendall Jenner And Gigi Hadid Swapping Hair Colors Will Make You So Confused
Getty Images
I AM CONFUSED AF.
Best friends Kendall Jenner and Gigi Hadid decided to swap hair color for a day at the Balmain Fashion Show in Paris.
To break it down for you, that means Kendall went full blonde and Gigi rocked a dark brunette look. They basically look like each other's twin except with different faces. IT'S SUPER TRIPPY.
JUST TELL ME THIS VIDEO DOESN'T FREAK YOU OUT. https://instagram.com/p/BCfnnocQ3Yr/embed/
LIKE, WHATTTTTTTT?! WHO'S WHO?
Don't get me wrong, they look INCREDIBLE, but it's still confusing as hell. https://instagram.com/p/BCfrTYcgyg6/embed/
This looks like Gigi kissing Gigi and Kendall posing with Kendall. WEIRD, RIGHT? https://instagram.com/p/BCfoByUNR4o/embed/
Yeah, it's weird.
Regardless of their hair swap, the two look gorgeous. I can't wait to see what crazy looks these best friends rock next.
HAVE FUN IN PARIS, GIRLS.