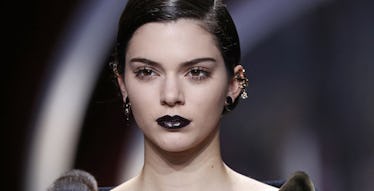 Kendall Jenner Is Starring In 'Where Is The Love?' Remake
REX/Shutterstock
Remember The Black Eyed Peas' hit record "Where Is The Love?" I know you do.
The song, which was originally released back in 2003, touched on several issues that have become prominent talking points in today's society, including violence, racism, discrimination, war and poverty.
These lyrics help paint a vivid picture of what this song is all about.
"Where Is The Love?" took over the airwaves and brought millions of eyes to The Black Eyed Peas with over 188 million views on YouTube.
By 2008, the single had sold a whopping 954,000 digital copies alone.
Despite the unquestioned success of this hit record, which was co-written by Justin Timberlake during his "Justified" days, one of the most valuable things about this work of art is its message.
That's precisely why, thirteen years later, The Black Eyed Peas are regrouping to remake "Where Is the Love?" along with features from Justin Timberlake, A$AP Rocky, DJ Khaled, Usher, Jamie Foxx, The Game, Mary J. Blige, Jessie J, Nicole Scherzinger, Diddy, Andra Day, Tori Kelly, Ty Dolla $ign and Jaden Smith.
In addition to this star-studded lineup, both Kris and Kendall Jenner will also make an appearance in the music video for the remake of the hit record.
If there's any good way to literally ask "where is the love" in this batsh*t crazy world we live in these days, it's probably with this song. Absolutely genius.
So, how did this remake come about aside from the fact that the world desperately needs it?
In a promotional video shot by ATTN for the upcoming release, Black Eyed Peas frontman Will.i.am stated,
My grandma said a prayer and said that we shouldn't stay home and be afraid when you're being called on to do as much healing as you can with the gift that was given to us.
If anything can help push the world toward healing, it's probably a song as real and as direct as "Where Is The Love?"
Will.i.am continued,
Everyone was calling on us, like, we need that song again.
Following the recent tragic events that led to the deaths of people like Alton Sterling in Baton Rogue, Philando Castile in Minnesota and the innocent lives lost around the world to senseless terrorist attacks, it's not hard to understand why the world is in dire need of musical revitalization.
The 41-year-old artist also spoke about millennials and the strong purpose they serve in today's world, saying,
The millennials are powerful, I don't think they realize just how powerful they are. I hope this song inspires the millennials to go all out, scream from the tallest mountain, care like your freedom depends on it, pay attention like that is at risk.
The remake of the epic track is supposed to be released on August 31.
I don't know about you but I'm BEYOND ready for it. I don't think we can wait much longer!
Citations: The Black Eyed Peas Enlist Kendall Jenner for ''Where Is the Love'' Remake (E! News)