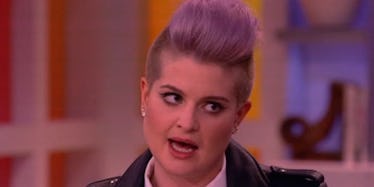 Kelly Osbourne Drops Racist Comment When Trying To Call Out Donald Trump
The high that accompanies saying something culturally profound and politically biting is one Kelly Osbourne did not have the pleasure of experiencing on Tuesday's episode of "The View."
During a discussion about presidential hopeful and combover enthusiast Donald Trump, Osbourne launched a stick-it-to-him statement that stuck itself, instead, to Osbourne herself.
In her statement, "The View" host came off sounding racially insensitive and ignorant of the countless roles Latino Americans play in society.
Osbourne said,
If you kick every Latino out of this country, who's going to be cleaning your toilet, Donald Trump?
Cohost Rosie Perez immediately took issue with the remark, but Osbourne attempted to keep talking and offer a possible explanation.
She continued,
In the sense that, you know what I mean? What I'm saying is, in LA, they always…
Fortunately, the host was cut off from finishing that statement before she could continue to refer to all of our nation's Latinos as "toilet cleaners" or some other equally offensive generalization.
"If you kick all Latinos out of this country, who is going to be cleaning your toilet Donald Trump" - Kelly Osbourne pic.twitter.com/a7Ylz4Elu2 — Karεn Ciѵil (@KarenCivil) August 4, 2015
Citations: Kelly Osbourne Tries to Call Donald Trump a Racist, Ends Up Revealing Her Own Racism (Complex)