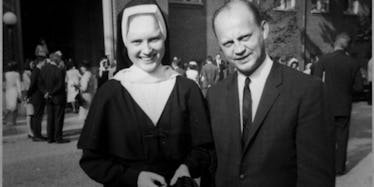 'The Keepers' Director Opens Up About His Personal Connection To Sister Cathy
Netflix
The latest true-crime series everyone's talking about is The Keepers, a gasp-a-minute deep dive into the unsolved murder of a nun in the 1960s that was released on Netflix this past Friday, and Elite Daily had the chance to speak with the director of the docuseries.
The dark and grisly new series invites viewers into the mystery by introducing evidence of cover-ups and suspects that will have you theorizing about what really happened for weeks.
The crux of the whole series is a mysterious woman named Jane Doe, who revived the cold case of Sister Cathy Cesnik's murder in the mid-'90s by anonymously stating her high school chaplain had taken her to see Sister Cathy's dead body months before it was discovered, in order to threaten her.
The Keepers finally reveals the identity of this Jane Doe as Jean Wehner, and the reason the new docuseries was able to get this bombshell reveal is that its director Ryan White has actually been family friends with Wehner since he was a child.
Ryan is also a Baltimore native, and he told me his aunt was actually in Sister Cathy's high school class back in the '60s, and Jean Wehner was one of her classmates and friends. It's through his aunt Ryan was able to speak with the case's most important witness.
I have a personal connection: My aunt was one of Sister Cathy's student at this high school. My aunt was in Jane Doe's class and they were friends into their adulthood, but she didn't know she was Jane Doe or even an abuse victim until a few years ago through Tom Nugent, the journalist in the documentary.
It's through Jean we learn about one of the most chilling aspects of the mysterious case: a system of sexual abuse perpetrated by the priests at the all-girls high school that Sister Cathy was teaching at before her death.
Though Ryan White wouldn't share his full theory on what he thinks may have happened, he does explicitly believe Joseph Maskell, the main priest behind the sexual abuse allegations, was definitely involved in the murder.
I one hundred percent believe that Maskell was involved in the murder of Sister Cathy. I think there's too much backing up that he played a role in this, and I find the people credible who say that he directly had a role in it.
Mainly, though, what Ryan wants from this series is for viewers to bear witness to what happened to Sister Cathy and to the abused high school girls, and he hopes the documentary will "shake the branches of Baltimore" and lead to new information and some real justice for Sister Cathy.
Of course, one of the reasons The Keepers is so big right now is because it's a part of the recent true-crime boom in pop culture. Shows like The Jinx and Making A Murderer, along with the podcast Serial, have all exploded into massive hits in recent years.
Ryan reminded me that he was actually working on The Keepers before Serial (credited as the inception of this boom) was first released, but said that he isn't annoyed when his show is compared to the other trendy true-crime stories because their popularity has helped bring more visibility to Sister Cathy's case.
However, Ryan does notice a distinction between The Keepers and the other big true-crime series, in that his series has a focus on victimhood that tends to make the series much darker than its contemporaries.
I feel like 'The Keepers' is different in a number of ways, but I think the main way it's different from the three that seem to make up the canon of the last few years is that 'The Keepers' focuses heavily on victimhood, and that's dark. That's not just a whodunnit or murder mystery or is someone in jail for the wrong reasons — it takes a dark look at the victims of these crimes. And when I say crimes I mean multiple crimes; I mean the murder of Cathy and it takes a deep look at her victimhood, but it also takes a deep look at the victimhood of the girls that she was trying to protect. So it's definitely not as easy to watch, for whatever reason, as a murder mystery.
As for how the story will continue after the seven episodes of The Keepers, Ryan is leaving that up to the public. Although Sister Cathy's murder is still unsolved, he says that he has no plans for a follow-up series, stating that his goal in making these seven episodes was to relay this story to the world and hope it reinvigorates investigators into getting justice for Sister Cathy.
The Keepers is streaming on Netflix now.