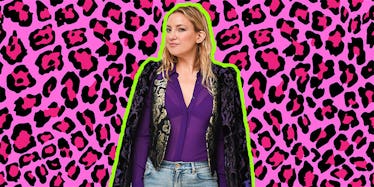 Bye, Nick Jonas: Kate Hudson Is Reportedly Dating This DJ Now
REX/Shutterstock
It looks like Nick Jonas and Kate Hudson's on-and-off relationship is officially a thing of the past.
According to US Weekly, the 37-year-old actress is reportedly dating Diplo. The rumored couple left the Met Gala together back in May, which could be when sparks first started flying between the actress and the 37-year-old DJ.
Here's footage of Kate Hudson and Diplo spotted together at the Met Gala in May.
In US Weekly's latest issue, a source simply reveals,
They are dating.
The source also revealed that the reported couple also linked up in Ibiza, Spain, earlier this month after Hudson had been traveling with her girl friends.
Apparently, Diplo, who casually dated Katy Petty back in 2014, stopped by after playing a show nearby.
If you're a Kate Hudson fan, you know the actress was engaged to 38-year-old Muse frontman Matt Bellamy back in 2011. Since then, the couple, who also has a 5-year-old son named Bingham together, split back in 2014 but agreed to keep the peace and remain loving parents. They also own a wine company together called Hudson Bellamy Wines.
In addition, Kate Hudson also has a 12-year-old son named Ryder with ex-husband and rock singer Chris Robinson.
So, where does all of this leave Nick Jonas? It looks like Kate and Nick might've left things off on good terms.
In a interview with Complex last February, the 23-year-old star revealed,
Kate's incredible. We had an unbelievable connection as two humans who just admire things about each other, and see something in each other that's beautiful. Out of my best effort to respect her and her privacy, I'm not going to say if we had sex or not. But we did have a beautiful connection. Even now I have so much admiration and respect. She's amazing.
Despite the different stories floating around regarding the new romance between Diplo (aka Thomas Wesley Pentz) and Kate Hudson, Diplo's rep denies the claims.
We'll just have to wait and see if these two plan on confirming or denying the dating rumors themselves!
Citations: Kate Hudson Is Dating Diplo (US Weekly)