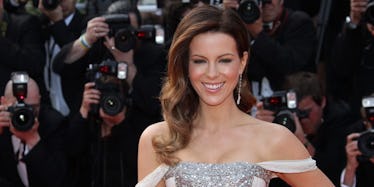 Kate Beckinsale Dressed Up As A Massive Penis And Posted A Pic To Prove It
Shutterstock
Oh, Kate Beckinsale, what would we ever do without your wacky antics?
On Monday, the "Serendipity" star posted a picture of herself to Instagram that is sure to turn a lot of heads for an unlikely reason. Somehow still looking gorgeous in a giant inflatable penis costume, Beckinsale wrote in the caption,
Just a girl trying to make it in a man's world...
According to Mashable, Beckinsale offered very little context for this hilarious photo op. Given her Instagram history, she's not one to go out of her way to explain things, leaving her posts up to the interpretation of her 180,000 followers.
Take this blinged-out banana for example...
Or this dilapidated neon sign...
She also throws some classy French quotes in there. You know, just for fun.
Along with some random butts.
But what explanation do you really need for a photo as awesome as her penis outfit? In my book, that's something you just have to gratefully accept, no questions asked.
Citations: Nothing to see here, just Kate Beckinsale dressed as a giant penis (Mashable)