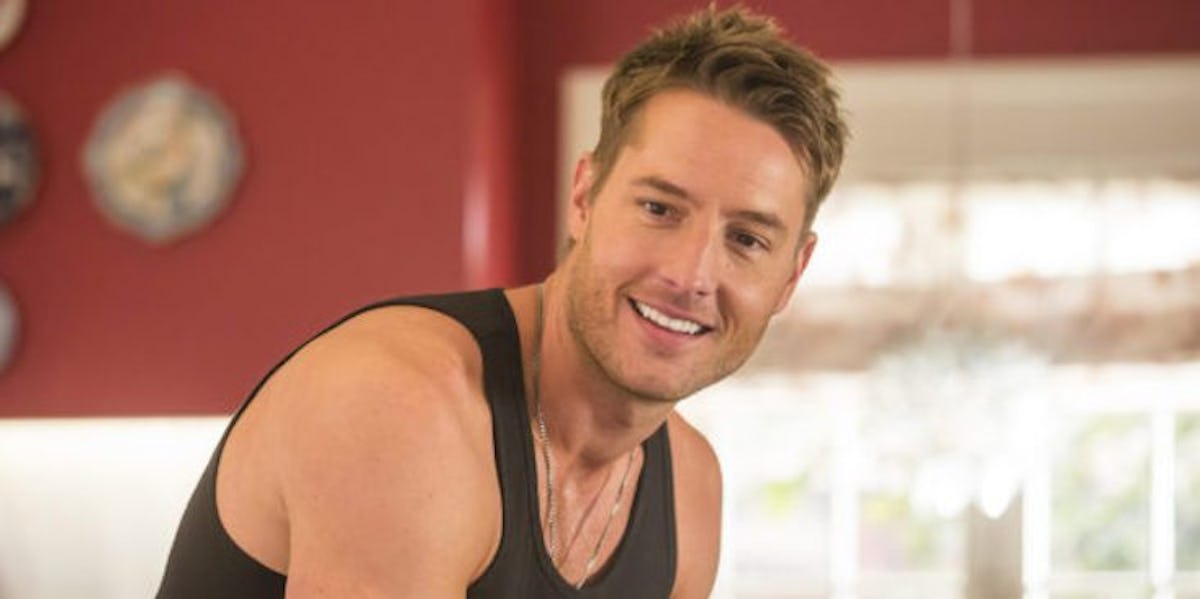 This Line About The Kardashians In 'This Is Us' Season 2 Has Twitter Freaking Out
NBC
OK, the This Is Us writers must be psychic or something. Not only can they make us bawl our eyes out every episode, but they came back swinging with an eerily prescient joke about the Kardashians at the start of the Season 2 premiere on Tuesday night. The This Is Us Kardashian line that Kevin Pearson delivered on the phone to his girlfriend Sophie had everyone shook not only because it was pretty funny, but also because it was scarily timely as to what's going on with the famous family.
When Sophie is upset she can't make it out to Los Angeles to visit Kevin on his birthday, he teases her that she won't be able to see all the Kardashian hot spots. But he reassures her that the Kardashians aren't going anywhere — in fact, the family will just keep multiplying.
They're like gremlins — there will be a million more of them tomorrow.
Given all the pregnancies happening in the family so recently, Twitter freaked out over the super timely joke. It was only a few weeks ago that Kim Kardashian and Kanye West revealed they were using a surrogate to give birth to their third child together. If that wasn't enough, less than one week before the This Is Us premiere, Kylie Jenner revealed she was also pregnant. But wait, things get even crazier! Just hours (yes, hours) before the This Is Us premiere featuring that joke about the family multiplying at an alarming rate, it was revealed that a third Kardashian-Jenner is also currently pregnant. Khloe Kardashian announced earlier on Tuesday that she's expecting her first child with boyfriend Tristan Thompson. Obviously, the writers on the show could have never known that there would be such a Kardashian baby fever exactly on the day of the premiere episode, which is what makes the joke so much crazier!
Check out some of the reactions below to Kevin Pearson's joke about the Kardashians on This Is Us below.
Even more eerie is how fitting the current Kardashian sisterly pregnancy boom is with the This Is Us family. After all, the breakout NBC drama focuses on the relationship between three siblings, the self-proclaimed Big Three. And at the same time Kevin, Kate, and Randall are celebrating their birthday in the This Is Us Season 2 premiere, Kim, Kylie, and Khloe Kardashian are all expecting three new little Kardashian-Jenner babies. I mean, it's kind of a weird coincidence when you think about it, right? Or am I forcing this parallel too much? Whatever.
Of course, the Pearson family seems to have vastly different problems from the Kardashian-Jenner clan. The new season picked up where Season 1 left off — looking back at the split between Jack (Milo Ventimiglia) and Rebecca (Mandy Moore) back when the kids were teenagers. The new episode shows Rebecca and Jack both reeling after breaking up in the previous season's finale, with Jack mulling around his bestie Miguel's house and Rebecca hoping to distract from her sorrow by spending more time with her kids.
In the present day, the grown-up Big Three are having some interesting troubles of their own. Randall is having trouble convincing his wife Beth to adopt another child, feeling the need to pass on the adoptive love that the Pearson family gave to him. Meanwhile, Kevin is struggling with the loneliness of being away from Sophie and acting in L.A., and oversteps the boundaries into Kate and Toby's relationship. And for Kate, it's all about finally getting her dreams off the ground. She is finally ready to follow in her mother's footsteps and kick off her singing career with the support of Toby.
But obviously, it was that crazy-prescient Kardashian joke that was the real highlight of the premiere.