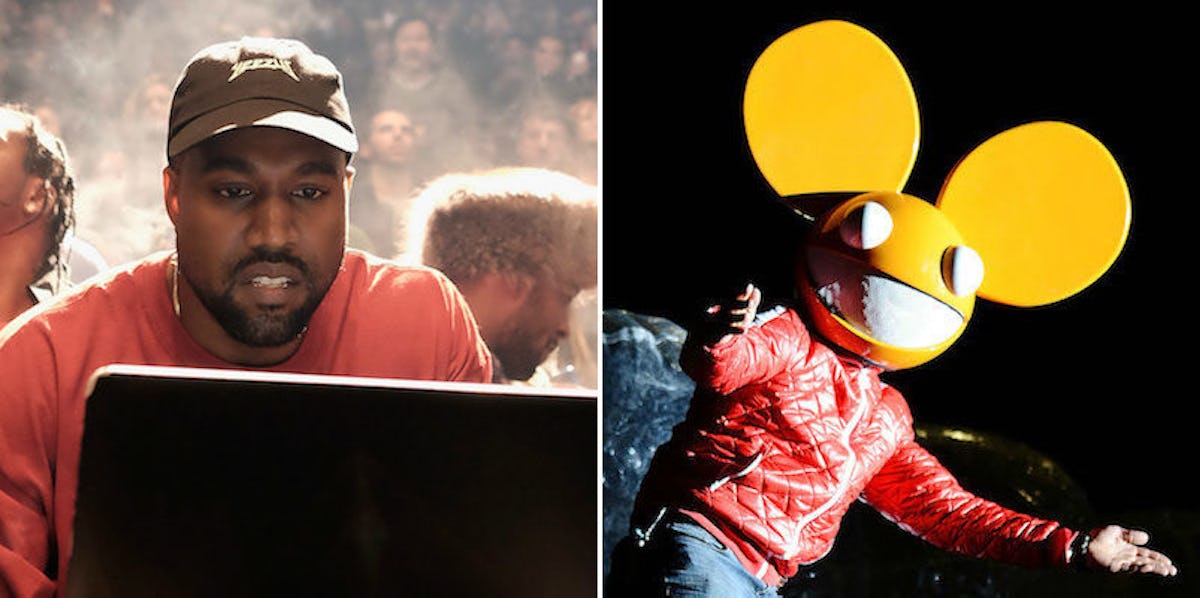 Kanye West Just Called Out Another Celeb In His Latest Twitter Rant
Getty Images
Someday, my loved ones will leave me, technology will advance far beyond my understanding, and the world as I know it will become unrecognizable.
But I know in my heart, no matter where life takes me, Kanye will still be there, stirring up drama on Twitter. And I take comfort in that knowledge.
In other words: AW SH*T, KANYE'S BACK ON THAT TWEETER AGAIN, AND HE'S TWITTERING UP A STORM.
This time, Kanye's anger is directed at DJ deadmau5, who always wears a Micky Mouse head.
Last night, deadmau5 angrily responded to a photo Kanye posted that appeared to show him illegally downloading a beat-making software called Serum.
Aaaaaannnnnd, they're off!
Kanye inadvertently delivers the first blow by revealing he uses the illegal torrent site The Pirate Bay (which, considering Tidal, is pretty f*cking hilarious).
Deadmau5 strikes back with a zinger referencing Kanye's supposed debt!
Kanye pretty much takes the reigns from there with a series of brutal blows mocking deadmau5's Mickey Mouse costume!
Amid this mockery, Kanye displays a shocking lack of understanding of how hashtags work.
He also lays down some doubtful claims deadmau5 helped increase Tidal subscriptions.
# hash tag you raised Tidal's subscriptions by a whopping downloads — KANYE WEST (@kanyewest) March 2, 2016
He really starts to get into character, though. He seems to be amusing himself quite a bit.
He starts spitballing on a hypothetical birthday party for North.
It gets pretty good, to be honest. Comedy Central might want to get in touch with him for its next roast.
Of course, he has to bring it back to Tidal in the end, because it's Kanye.
I'm not usually on Kanye's side, but he pretty much destroyed deadmau5 and won this round. But he's still a hilariously hypocritical assh*le who's probably seeding files as I type.
The moral of this story is: Always wear a mouse head, and you might get noticed on Twitter!