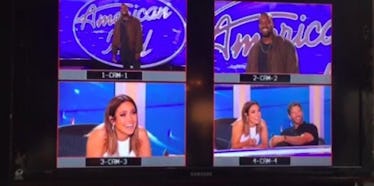 Kanye West Surprised Everyone And Crushed His 'American Idol' Audition (Video)
Kanye West is trying to make it in the music industry… again.
For reasons I don't completely understand, Yeezy showed up to audition for "American Idol" in San Fransisco over the weekend and it seems like he did pretty well!
It's a tough business to get into, but this audition could open up some doors. Maybe Kanye does have a future in the music industry after all.
Jennifer Lopez looked like she's pretty into whatever Kanye was doing up there while Keith Urban had no idea who he is.
Kim, who is about two months away from blessing this world with North West part 2, was on hand supporting the 2020 presidential nominee in his quest to become a music star.
Before he auditioned, West took some time to hang with Ryan Seacrest and an 1830s grieving wife at the funeral of her husband who recently died of cholera.
Seriously, WHAT IS KIM WEARING IN THIS PICTURE?!?!
Did she come from a "The Village"-themed Lamaze class or was she just accusing Tituba and Abigail of witchcraft and consorting with the devil at SoulCycle? Did she treat everyone who auditioned for the plague before she went backstage?
Anyway, we now all have our Halloween costume for this year.
Citations: Kanye West Shows Up for a Surprise American Idol Audition (People)