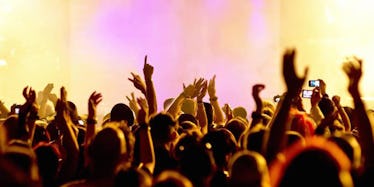 Kaaboo Del Mar: What It Was Like To Enjoy A Clean Music Festival
After swallowing a pound of dirt, bracing myself through a dust storm and collapsing to the ground due to heat exhaustion, I finally came to the conclusion that, maybe, I was becoming too old for music festivals.
You may roll your eyes since, yes, I am only 24 years old.
However, musical festivals have started feeling less focused on the music and more focused on the survival tactics, all while still looking stylish enough for Instagram.
I do know, from my experiences, how camping can really bring people together to develop friendships you wouldn't have otherwise made. But I couldn't help but think I'd prefer my next musical experience to not involve port-a-potties or fighting for an outlet at the "beauty bar" in a campsite.
Kaaboo Del Mar claimed to be the adult escape people like me have been waiting for. They state on their website, "Forget what you know about music festivals. We're shifting the paradigm and starting something new."
SOLD. But did this music "experience" live up to its word?
I headed straight to Kaaboo Friday night after work (because, yes, I'm an adult with responsibilities now); immediately, I was impressed with how simple it was. They had a specific drop-off area for Ubers, and I felt like I was headed to Disneyland while I hopped aboard a tram to go into the festival.
I was greeted by huge paintings from local artists, and immediately got a sense of a beachy, laid-back vibe.
The main stage had turf and sand, to really give you a sense of upgraded comfort. Shade could be found everywhere, but it was also the perfect San Diego weather all weekend, so you couldn't really complain.
The best part was I never waited longer than five minutes to use the restrooms. This is unheard of at any large event, but especially for women. With the Del Mar Racetrack as the venue, this area was already equipped with a large amount of restrooms.
Not only that, they brought in nice, air-conditioned bathrooms that had the lady behind me saying, "This is nicer than my apartment!"
The Zuma stage was in front of the racetrack, and the seats were filled with people who wanted to sit back and enjoy the music from afar. Even with a seat view, it wasn't too bad. (Although, I decided I needed to be close, shade or not.)
With an indulgences area with wine tasting, shopping, a beauty lounge and plenty of seating, the event really lived up to being an experience for adults who were tired of camping in a desert.
I do have to say there were a few downsides I came across. I spoke with a woman who said she came by herself because her friends in Humboldt thought it was too snobby of a festival.
Then, the VIP areas were like a slap in the face. At most music festivals, I never even noticed where the VIP area was. Even when I had a VIP pass for the Fun Fun Fun Fest in Austin, TX, it took me a bit to even figure out where these spots were.
Here at Kaaboo, it took a bit of effort to try to avoid these areas. My boyfriend even joked to the security guard, "Where do the basic people go, then?"
The VIP area at the Main Stage took up over half of the audience. The worst part was most of it remained empty. I looked on as people tried and failed to jump over the fence and get away with it. Those die-hard fans weren't able to get close enough, since it was blocked off.
It gave us a feeling of separation I hadn't felt before at a music festival.
This is when I realized that being grimy and going through various unfit conditions is what brought us together at other festivals. We were all willing to sacrifice comfort in order to see the music we love.
We embraced the dust storms in Coachella and Burning Man, the cold weather at Outside Lands and the port-a-potties that felt like a confined time-out to bring us back to reality...all so we could have life-altering experiences with music, booze and friends.
My last critique would be the lack of offering "another world." There wasn't this feeling of stepping outside the norm, into a themed area. There were no choco-lands or domes with light effects or popsicle stick houses. They kept with the look at Del Mar, and hey, maybe they just wanted the area to speak for itself and stay true to the San Diego vibe.
I honestly enjoyed seeing some comedy and having the opportunity to sit back and relax in seats. I liked being able to Uber it back to my home and sleep in my own bed. This was the type of event I needed currently in my life, especially as I was tired of forking out money for tickets and travel.
I really couldn't ask for a better experience for a music lover who just wants it to be simple and see multiple bands I love in one place.
Overall, I came to the conclusion that a music festival comes down to what the person is looking for. We all have our different wants, needs and taste in music. Each festival has something new and different to offer.
But man, was it nice to be CLEAN at Kaaboo!