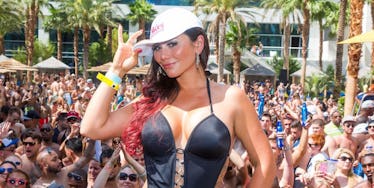 JWoww Calls Out All The Haters Questioning Her Parenting In One Instagram
REX/Shutterstock
When it comes to questioning celebrities and their parenting skills, Jenni "JWoww" Farley is one famous mom you don't want to cross.
On Sunday, the "Jersey Shore" star posted a picture on Instagram with a caption that slammed trolls trying to shame her as a neglectful mother.
After posting an adorable photo of her husband and baby daddy, Roger Mathews, holding their two-month-old son, Greyson, the haters came out in full force with unwarranted negative comments.
Even though Mathews clearly has a tight grip and his son's face is shaded by a tiny fedora, critics were quick to accuse the parents of being reckless and not putting sunscreen on their child. JWoww quickly responded with a photo of the sunscreen they used on their baby along with a message for all the haters. She wrote,
Not even sure why I am even doing this but I feel like schooling people on my previous post. First off, my son is two months and in a salt water pool up to his belly... Probably for a total of 3 minutes. But second is where I need to really educate trolls... Let me explain to the haters that decided to comment about no sunscreen and the dangers bla bla bla...
She went on to defend herself and give the trolls a lesson in proper skincare, writing,
My son actually does have sunscreen on. It's the same concept as diaper cream. Probably even better than the crap shit you lather your children in. Remember ass holes [I'm] in the tanning industry and pride myself on knowing this. So, here is what I mixed for my son so I know for the 2 minutes he would be safe: Coconut Oil- SPF 4-6 Zinc Oxide, SPF 2-20 depending on how much used, Carrot Seed Oil – SPF 35-40... Go enjoy your Sunday now.
So there you have it, trolls. Not only did JWoww slather her baby in sunscreen, she used a more natural, health-conscious blend than the chemical-packed goo most people use. Consider yourselves schooled.
And as a very relevant side note, her new hair color looks bomb.
Take that, haters!
Citations: Jenni 'JWoww' Farley Slams Critics Questioning If Her Baby Was Wearing Sunscreen in Pool (ET)