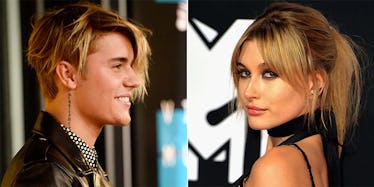 Justin Bieber Reveals How He Really Feels About Hailey Baldwin
Getty Images
Hailey Baldwin officially went from backstage Belieber to someone Justin Bieber actually loves, personally, with his little Canadian heart.
In an interview with GQ this month, the "Sorry" singer told the magazine Baldwin is "someone [he] really love[s]," and the two of them "spend a lot of time together."
Wow, JB. Cards are on the damn table, huh? All the cards. Like, several decks of cards.
The pop star also opened up about past loves (or just one singular love whose name probably rhymes with Belena Bomez), explaining "Sorry" was not his apology for past public acts of indecency.
Bieber said,
People ran with that... that I was like, apologizing with that song and stuff. It really had nothing to do with that... It was about a girl.
Oh, Justin. We know.
Citations: Justin Bieber Admits Hailey Baldwin Is "Someone I Really Love" (Teen Vogue), Justin Bieber Tells GQ What "Sorry" Is Really About (GQ)