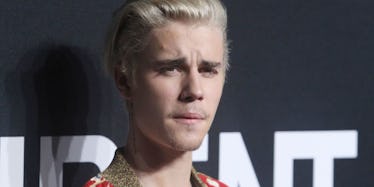 Justin Bieber Is Apparently Refusing A Movie Role Over A Gay Sex Scene
REX/Shutterstock
Justin Bieber was just offered a major movie role, but the singer apparently isn't too happy about the part.
According to Daily Mail, Bieber was asked to play a pop star in the new film "Uber Girl," but he's currently refusing the role unless the screenplay is re-written.
The source explained there would be a scene in the movie featuring Bieber's character having sex with another man.
Pete O'Neill, one of the film's co-writers, spoke with Page Six about Bieber's decision, sharing,
He won't take the part unless the sex scene with him and one of the male backup dancers is taken out of the final script.
It sounds like "Uber Girl" could have a stacked cast, potentially including Ariana Grande, Kiernan Shipka and even Justin's ex Selena Gomez.
This could be Justin's biggest movie role to date, as the star hasn't had much camera time... besides shooting his music videos and making minor appearances in "CSI."
At this point, it's unclear if the script will be rewritten or if Justin will accept the role as it is.
Either way, I personally would love to see Bieber star in a movie with Selena Gomez. That would seriously give me all the feels.